I reviewed my list of NES games missing from MobyGames and specifically searched for movie licenses. I came up with 10. Oh joy. Games based on movie licenses are infamously insufferable, even worse for the old NES (with at least 3 notable exceptions: Willow, Batman, and Gremlins 2: The New Batch). The first order of business is to determine which games already exist in the database but for other platforms. I go for Alien3 and Bram Stoker's Dracula tonight.
I was somewhat excited about Alien3 because I thought that the SNES version of Alien3 was really very good. Unfortunately, a quick whirl through the game reveals that it's actually a port of a more dull version for Amiga, Commodore 64, Game Gear, Genesis, and Sega Master System.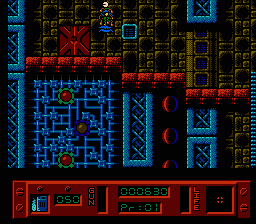 You play Ripley, of course, and you are allotted a rather small period of time to scramble through a level infested by the trademark aliens. You need to free a number of trapped, alien-embryo-impregnated humans. What happens if you should fail in your task? The game scrolls to each of the ill-fated humans and shows 8-bit chest-popping action (illustrated in the preceding screenshot). It's not nearly as gory as Hitler's head exploding at the end of Bionic Commando.
Okay, I got the screenshots for that one. I move swiftly on to Bram Stoker's Dracula, for which MobyGames presently lists ports for Amiga, DOS, Game Boy, Game Gear, Genesis, Sega CD, Sega Master System, and SNES. What's one more platform? The developers (Psygnosis and Probe are listed) were extremely busy with these 9 (known) ports of this game. Some things fell by the wayside, like some kind of intro/title theme. I thought there was something wrong with the emulator. Here's another graphical problem that sticks out like a mountain– because it is a problem with the mountains: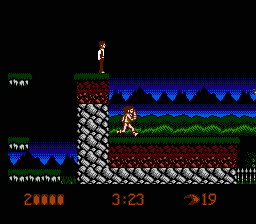 These uneven mountains are a bit disconcerting, even if you're fairly unobservant like me. That quirk notwithstanding, the graphics are decent, as they should be for a 1993 game.
Very similar by screenshots to the existing platform ports in MobyGames, BSD is another side-scrolling action affair; the hero collects a variety of weapons to use against the hordes of undead. Creepy, undead bosses top off each level. The first boss is a shadow creature who keeps taking cover in the shadows. I'm not nimble enough to take him down. Instead, I lie down for a nap: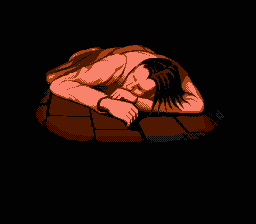 Or that could be the game over screen. Either way, it's past my bedtime, and MobyGames is 2 games closer to completion.
See Also:
At MobyGames: