Try this on for size: A 4-player, tabletop, educational video game: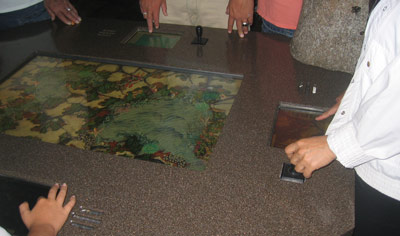 Click for larger image
I visited the Monterey Bay Aquarium in Monterey, California, USA today. This was one of the many exhibits. My friend (on the right side of the picture in the white jacket) played while I marveled at how many tech spec boxes I could check in a MobyGames database record, if only I could figure a way to get the platform approved. The object of the tabletop game was to navigate a pair of colored feet around the large game map using your joystick. Then, it was possible to interact with the environment and take pictures by using your local touch screen.
They also had a mission control-themed exhibit. This room rotated through a few films playing on a big screen about some phenomenon relating to marine biology and technological advances that were being made to study it more carefully. Meanwhile, there were a 1/2 dozen terminals up front that had a brief game at the same time that the related film was playing. One film described investigating sunken whales: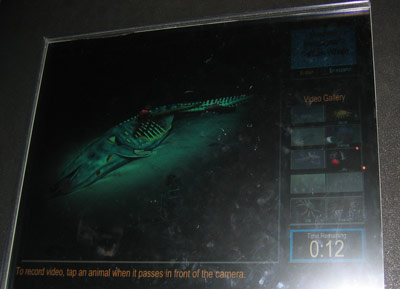 Click for larger image
In this game, a bunch of creatures were coming to feast on the carcass of a dead whale (how about that– not all deceased aquatic creatures float to the surface). Your goal is to photograph as many as possible in the time allotted by pressing on the creature using the touch screen.