Casual games are big business these days. It's important to differentiate your casual game from all the other thrown-together dreck out there. To that end, Magic Match specifically bills itself as a "Premium Casual Game". I must admit that it lives up to that lofty claim.
Magic Match is primarily a "match 3" game. I suspect that there are many games just like this out there (though this is the first one I have ever played). There are a bunch of pieces scattered about a puzzle board and you have to link chains of 3 or more pieces in order to make them vanish.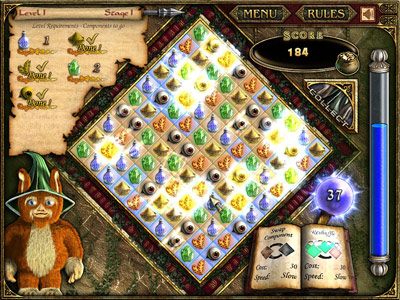 This game is remarkably elaborate for a simple puzzle game. The graphics, the animation, the music, the soundtrack (using Ogg Vorbis files! alert the Xiph wiki!) that sings the game's instructions and story to you– oh yeah, and the story. There is one. Something about you questing through 6 stages with many, many puzzle-stops along the way. The game copy lists that there are 126 puzzles among the 6 stages.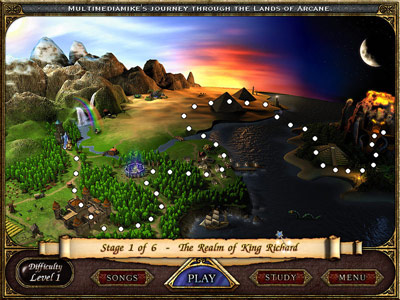 There is an assistant imp who helps you along the way. There are dozens of powerups and other items that appear along the way which he kindly explains as they become available. He also describes new obstacles on the board, which would be plain confusing and tedious if the player were to have to consult a manual. Periodically, the imp helper (Giggles) gets to participate in a bonus game which is just a Pac-Man knock-off but with a pair of really unmotivated ghosts for adversaries: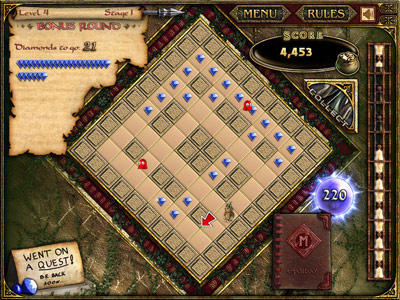 Bottom line: the game works. I.e., I would rather be playing it than writing up this entry about it (which, you should know by now, does not happen often). Back to it…
At MobyGames: