Today, it rained where I live. I thought it would be apropos to play Madeline's Rainy Day Activities. I'm going to have to play it eventually, anyway. It seems that I have been hitting the kids' games pretty diligently recently. I can't complain. Frankly, they tend to be just fine. Bright, colorful, cheerful, simple. Maybe they just fit my intellect, who knows?. Whatever the reason, it's a welcome release vs. the seemlingly interminable string of interactive movies I suffered through not long ago.
In this game, as in my real world today, it's raining. Lively Madeline has a roomful of activities you can choose from. They're not all unique. In fact, many of them can be classified as fill-in-the-blank customizable stories or coloring activities. The customizable stories take the form of brief stories with several missing nouns and adjectives. You can choose from a list of each for completing the story. For the drawing activities, of which there are four, the player is thrust into a primitive drawing tool and is able to select from among several pictures centered around a particular theme; e.g., for the Masks activity, there are different masks to color. The drawing tool allows the user to paint using 2 different types of brushes and 8 colors. There are also solid fills and various fill patterns to choose from. There is an eraser, a 1-level undo, a picture reset, and an option to print your work.
So, I think you can guess what's coming: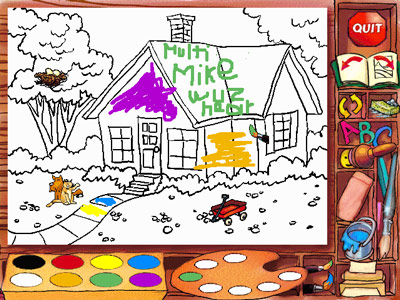 Another drawing activity is "Finish The Picture". The pictures in this set focus on unfinished scenes. An obvious one is a large picture canvas hanging in a museum. I call this piece "Purple Dog Sniffing":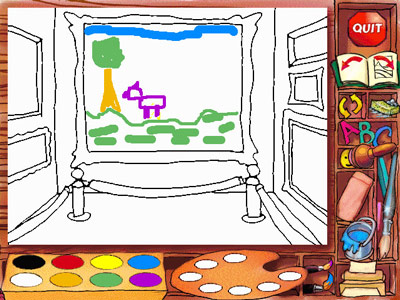 This title needs to demonstrate itself to be — however marginally — a game in order to earn an entry in the prestigious MobyGames database. And, so help me, one of those activities had better not be a sliding tile puzzle game! Fortunately, there are some activities that have clear goals which would technically categorize them as games. One such activity is a selection of connect-the-dot puzzles. This is surprisingly free-form and you can indeed deviate from the pattern. At your own peril, but still. There is a typical memory card game with a curious twist: One card has an animal and its match hidden elsewhere on the table has an audio icon which plays the sound the animal makes.
This was probably my favorite game: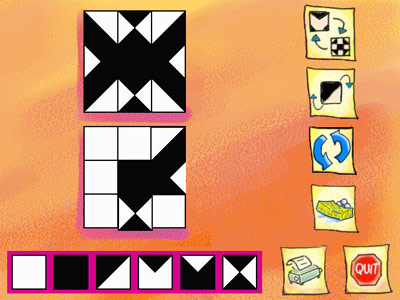 The goal here is to recreate the pattern above on the canvas below using the selection of shapes lined at the bottom. Rotate the shapes as necessary.
Some other features in the overall title: Almost anything can be printed (notice the printer icons on the above screenshots). Further, there are two "Print Activities" hotspots in Madeline's rooms that allow you to print out a number of offline activities in different categories including games & puzzles, paper dolls, cards & stickers, science, word games, and arts & crafts.
So, I'm not too elitist to admit that I had a fine time exploring these games. This title has two reviews on Amazon.com that were, well, not kind, to say the least. I think this person was expecting entirely too much from dear Madeline:
"This product is HORRIBLE! First of all, there is no goal except to have some "Rainy day fun!" Second of all, the games aren't that fun anyways. Just some cheesy games such as one where Madeline asks some way too easy fairy tale questions, a puzzle game that dosen't tell you when you're finnished, and some make-a-story games that are ethier boring or don't make sence."
For my part, I'm just ecstatic that I didn't see another sliding tile puzzle.