I wanted to see how racing games played on the iPhone and iPod Touch. To that end, I downloaded and tried out 2 different 99-cent racing titles. The first is Concrete Combat Racing and it loads a curious warning: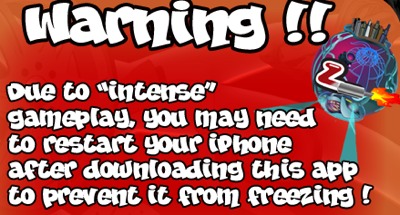 Intense gameplay. I'm sure that's it; not bugs or anything. Anyway, let me see what my notes mention from my earlier encounter with this game… ah, here it is: "don't like this game at all."
The point of this game is to select a car for yourself and one for your computer opponent and then the 2 of you roll around the parking lot of infinity. You tilt the unit in different directions to steer the car but it's very difficult to get used to, especially with another car firing bullets and missiles at you. I eventually gunned it in one direction to try to escape. But this parking lot just went on forever. The UI is also sort of mess with all of its buttons (gas and brake on left; 3 buttons on right; pause button at top). It makes me think that this is where the iPhone's input limitations are revealed.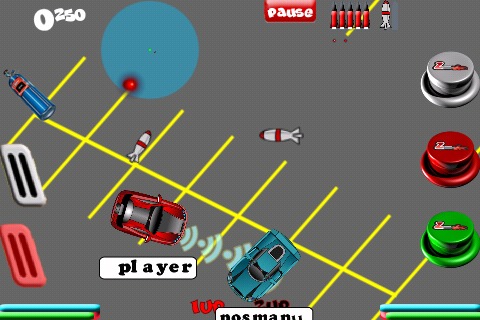 According to my other notes, the sound effects are crackly and otherwise unclean, the developers didn't bother with their own soundtrack at all (probably assuming the player could just pick their own soundtrack from thousands of songs already on the unit), the control buttons don't always seem to do what they say, and why are they driving on concrete anyway? It's probably best not to ponder that last question too much but rather to move on to a much better iPhone racing game which is similarly bold enough to name the racing surface in the title…
Asphalt 4: Elite Racer is one in a series of Asphalt racing games that are exclusively developed for assorted handheld systems. It's really quite fun even if I couldn't get past the first race, held in Los Angeles: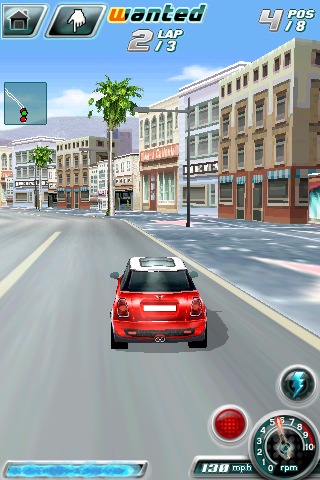 You can tell it's L.A. because the car is cruising along the Hollywood Walk of Fame. Err, make that the "Avenue of Fame," as the game calls it. I suspect Hollywood has some potent intellectual property claims on the real thing. Just as well, though; the walk doesn't look anything like the real deal.
This game has 3 control schemes to choose from and I experimented with each. The first is to touch the tall screen on either side in order to affect direction. The second is to tilt the screen side to side for steering. The third option has a little steering wheel on the bottom of the touch screen. I thought I would like the accelerometer tilting option the best but I had trouble keeping the car moving in a straight line. Control scheme 1 worked the best for me.
Elite Racer seems to come from that "illegal drag race" sub-genre of racing. You're trying to force other players to crash while the fuzz is in hot pursuit. In fact, you can actually take down the heat, as I demonstrated here, quite by accident: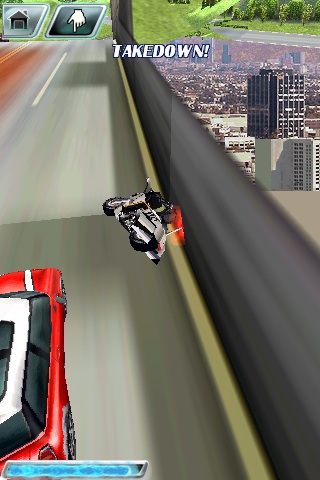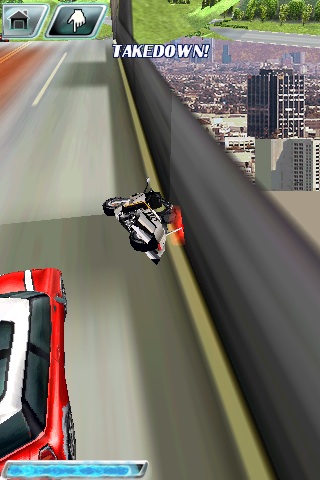 Another feature of Elite Racer — which I understand is not especially uncommon in these underground-type racers — is the ability to unlock new female companionship as the levels progress.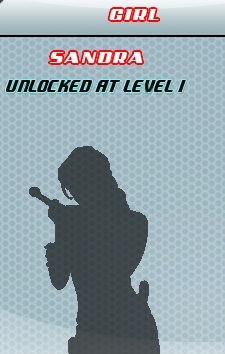 It's a tad disturbing, I realize, but it's apparently a mainstay of the genre, based on this game and some other game trailers I've seen. It's a curious concept — unlocking better women as you gain more skill.
Another facet of the game is automobile customization. I know that this game allows you to change the body color and rims. From what I've seen of more powerful underground racers on modern systems, customization is a serious part of the game. And I just realized that male gamers who put any serious effort into virtual automobile customization probably have little cause to ridicule female (or male, for that matter) gamers who get a kick out of dressing up characters in their favorite game franchises.
At the App Store:
At MobyGames: