No more running, no more hiding, and no real reason to wait until January 1st to get going on this (hopefully) game-a-day cockamamie idea. I'm still not sure how this is all going to work out, but it's time to get down to it and try. And I've had my inaugural game for this exercise picked out for some time now: Hot Wired.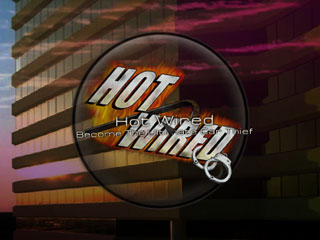 I actually played this game briefly after I picked it up for $5 in the cheap section of a media store (in early 2003, according to my records). However, the game has slipped through the MobyGames cracks.
The minimum goal is to play the game long enough to capture a variety of game play screenshots and form enough of an impression of the game to be able to write a competent description worthy of MobyGames, and perhaps a review.
Hot Wired is a car stealing and driving game. Actually, the stealing part is implied– you just need to drive the car and outrun the cops. Cursory impression of the game: This has some very real potential for fun, if only I could make it a few meters down the first road. A-ha! I eventually realized that I had selected the 'joystick' control option when, in fact, I have a gamepad. That makes a world of difference.
And I'm off! Structurally, the game has you driving a stolen car, presumably from the location you jacked it, to the border, with cops in constant pursuit. These cars' alarms must be wired directly to the local police precinct. There are 10 tracks to complete, each corresponding, allegedly, to a major U.S. city (I say 'allegedly' because there is little to distinguish various cities; L.A. has a few more miscellanous office buildings than Miami). Really, the only variation between tracks is the distance to the 'border' (i.e., distance to the end of the track), the course curviness, and the volume of local law enforcement.
Hands down, the most remarkable aspect of the game is the cops. Their commitment and sense of self-sacrifice is the stuff of legends. That's assuming that it's not standard police procedure to ram stolen cars every which way in order to force them into submission. And though they don't look the part, the cop cars can manage at least 130 mph in order to knock around your stolen property. Then again, rules seem to be a bit different in this alternate universe– there is this all-consuming obsession with "getting across the border", a common cliche in cops & robbers tales. I wonder where I would cross the border into in order to escape L.A. jurisdiction with a hot ride? And Miami, well, that could prove problematic… and wet.
So I'm reading too much into the game. That's all part of the fun. Some other random notes I took while playing:
Your car can take damage. Apparently, a major gripe regarding realistic racers in recent years is that cars don't take damage, ostensibly because the owners of the car licenses didn't want to see their digital properties banged up. Hot Wired does not suffer from that constraint with its not-quite-Lamborghini and not-quite-Ferrari models. The car starts the track with a set price for the black market (in non-descript 'credits'; maybe the U.S. Treasury wouldn't allow '$' to be licensed for the game). If the car takes damage, that price goes down.
The streetlights and road signs on the side of the road (not to mention random flora) are not solid objects, which makes the game a bit easier. However, there are various stretches of freeway that have a median which is uncrossable and can be like a tar pit if you happen to be straddling the yellow lane and hit the median head on.
Speaking of road signs, there are occasional speed limit signs in the game. I thought briefly what would happen if I actually obeyed the speed limit, then remembered that an inability to drive 55, so to speak, was not why the local constabulary had issue with me.
Odd physics, but what driving game models everything accurately? Much of the fun of a driving game is learning to exploit the quirky physics.
There are occasional intersections on these 80 mph freeways. They're essentially flashing yellow lights in all directions. These seem like they would be dangerous, but rarely are, at least in the first 2 tracks.
Lots of other traffic (cars, delivery trucks, semis) and they occur at random, which is a smart feature (harder to memorize tracks).
There might be some curious chaos modeling at work in this game. I noticed an accident occur ahead of me that, as far as I could tell, had nothing to do with me or the cops.
The 12 function keys at the top of the keyboard correspond to 12 different camera angles. This is the weirdest one:






Yeah, it sort of looks cool for half a moment, until you remember just how useful it is to actually be able to see where you're driving.
I played hard for at least an hour but could not make it past either of the first 2 tracks, though I made it within 0.2 miles of the border out of L.A. (with a starting distance of 4 miles) before one of the game's suicide constables got to me from the opposing direction. I eventually had to quit when I started developing a headache from the constant police sirens blaring in my headphones. Occupational hazard of the career car thief, I suppose. But I think I have more than enough to write up the MobyGames entry.