The South Park Season 10 DVD set came out yesterday. I finally got to watch the now-famous Make Love, Not Warcraft episode based on World of Warcraft. Strangely, the key point upon which I fixated was when Butters said he wasn't playing WoW, but rather Hello Kitty Island Adventure.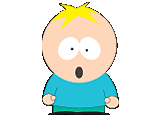 In the real world, everyone else would be playing the former while I would be stuck with the latter, if only to get the record into MobyGames. In fact there are at least a few Hello Kitty-themed games, but no Island Adventure.
Still, this DVD set came with a free 14-day trial WoW disc. I wonder if I should devote the 2 full weeks to experiencing the modern marvel that is the MMORPG?