Remember when I wrote about that South Park episode that featured World of Warcraft and I said that I would likely be analogous to the Butters character playing a Hello Kitty franchise game? Did you think I was joking?
I present Hello Kitty Dream Carnival. I was buying a new office chair at the same office supply store where I procured My Fantasy Wedding and Bratz: Rock Angelz some months back. They're firmly equal opportunity in their game selection and had 2 different Hello Kitty titles. The other one is Cutie World, but that has already been entered into MobyGames by — who else? — kiddie game-playing comrade DJP Mom.
So there are 8 games/activities, par for the course for this type of game. I just knew there would be a memory/matching game. To its credit, this game's matching activity is better engineered than most — Ferris Wheel Friends: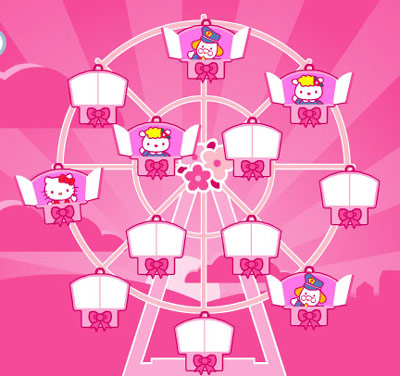 This is the first time I have encountered a word search in computer game form. I have to admit that this actually challenged me, if only because I was up against a timer that resets when you find a word.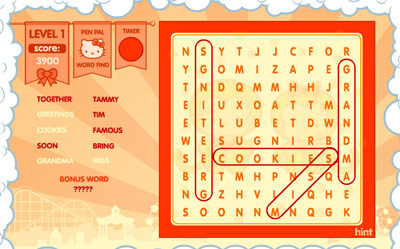 I can't believe I actually developed a strategy for beating this kid's game: find a word in the list and put off circling it until the timer is almost up while searching for another word in order to maximize the time.
This was my favorite game: Penguin Plunge. Adjust the drop height and the angle of deflection of the trampoline and try to land the penguin in the tube. Sometimes there are other goals, such as a hoop to jump through or airborne treats to collect on the way.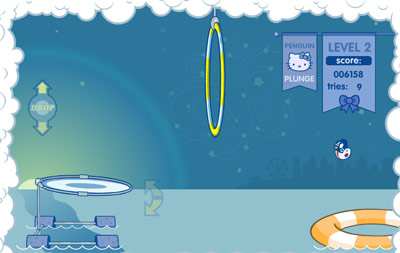 Not a bad little 1/2 hour screenshot recon.