Oh look, another Hello Kitty video game that isn't in MobyGames yet. Dang it. All right, let's just get this over with.
Really, I shouldn't have a foul attitude about this. My last outing with a Hello Kitty game — Hello Kitty Dream Carnival — was actually quite the delightful romp. Hello Kitty Bubblegum Girlfriends is more of the same — colorful, simple, and actually very fun. I'm impressed that, even though Dream Carnival and Bubblegum Girlfriends were developed by different houses, they both carry a very consistent style. This probably goes to show that Sanrio exercises tight control over its licensees.
This game, like the other one, is a series of 8 rather well-engineered minigames. Here are the ones I found the most interesting.
First, I was all over Sky Bubble Popper, which is a variation of the Puzz Loop formula of which I have become a large fan thanks to Luxor and StoneLoops: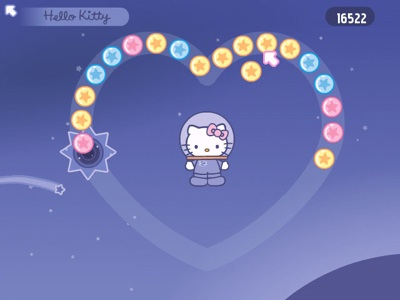 I always love a good Breakout clone and Cupcake Trampoline delivers while being the most exploitative minigame on offer: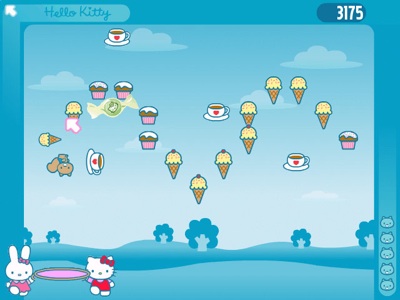 Hello Kitty and her bunny friend use a trampoline to keep the squirrel in play grabbing ice cream cones and cupcakes. I hope the squirrel at least gets a cut of the spoils for her role.
I absolutely could not figure out what was going on with Bubble Gum Taxi which has something to do with picking up Tetris-looking pieces from the conveyor belt and placing them on a puzzle: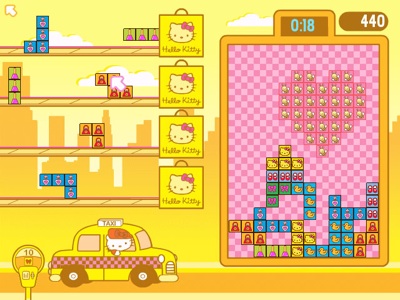 Crazy Cookie Race eventually shaped up to be my favorite game and it had many pieces: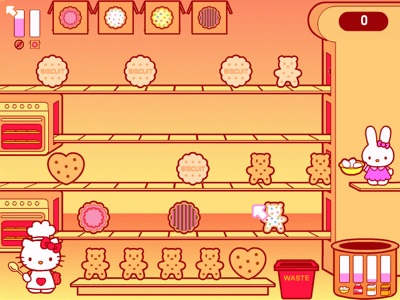 Place cookies from the bottom shelf onto the light outlines moving on the conveyor belts (first and third from the top). Those cookies come out baked and decorated on the second and fourth belts where they must be manually picked up and placed into the appropriate boxes on top before they reach the end of the belt. You're going through a lot of ingredients but Hello Kitty's friends have many more for you to use. You just need to click on them when they arrive with the ingredients and they will cheerfully drop them into the cauldron.
Interesting tech trivia: The credits for the game give a shout out to the Lua programming language, implying that it must be used in the game somehow.
See Also:
At MobyGames: