I got a brand new PlayStation 2 yesterday and just finished hooking it up. This is the first Sony gaming console I have ever owned. Indeed, it may be the first time I have ever touched a PlayStation console at all.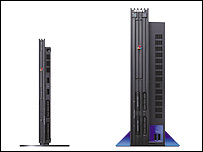 I have the slim one on the left
You know what this likely means: I can now accumulate all manner of obscure PS1/PS2 titles from the last 12 years. This GP experiment could well continue for a long time.
I had never planned to get any PlayStation console, although I do possess a smattering of PlayStation 1 & 2 games collected for the purposes of multimedia study. My impetus for this purchase was that I wanted a new standalone DVD player to replace one that I don't like very much (also made by Sony). A friend recommended that I just go ahead and get a slim PS2 so that I can also play the used copy of the legendary PS1 Castlevania: Symphony of the Night game that I happen to own, and that he thinks I should rightfully experience in its full glory. So I got the console and the DVD remote accessory. I have heard tales that the original PS2 was not a good DVD player but the slim PS2 was markedly improved. Fortunately, I'm not the type who can discern variance in video quality very well and I'm quite happy with the DVD playback thus far. All the annoyances of the old standalone unit seem to have vanished.
And I'm pleased to report that Castlevania: Symphony of the Night is incredible; at least the early levels that I got to play operate like a super-duper NES remake of the classic Castlevania stages.
I actually bought this system new, which is quite uncharacteristic of me. It got me to thinking of the other consoles I have purchased, and when was the last time a purchased a new console. I have never exactly been on the cutting edge. My first console was the NES Action Set (with Zapper gun) in 1989… purchased new on March 11, but who's keeping score? Next console was a Super Nintendo, purchased used in August, 1997. Next was a Sega Saturn, purchased in early 1999 well after they had been discontinued. It's a blur, but I might have actually gotten this one new, though very cheap. Next was a Sega Dreamcast in April, 2001. These had been discontinued at the time but I heard that they were easily programmable which was my primary reason for purchasing one. However, the Sega Dreamcast (and Resident Evil: Code: Veronica) got me back into casual video gaming. I can't remember exactly when I picked up a Nintendo GameCube but I know it was used (not much cheaper than new at the time, but it was the principle). My latest acquisition before the PS2 was an old Sega Genesis pawned off on me by a coworker.
There's a first time for everything. Who knows? Perhaps one day, I will think of a reason to pick up a used Microsoft console.
See Also:
At MobyGames: