I can't believe I now belong to the current generation of gaming, and it's more fun than I thought it would be. Pursuant to last week's announcement that Sony would drop the price of their PlayStation 3 to US$300 immediately, I finally sprung for the console, a Blu-Ray remote, one game and one Blu-Ray movie. (Yeah, I could wait until the PS3 Slim drops in a few weeks. But it's rumored that it won't support the "Other OS" option and I still have some remote interest in being able to program this thing.)
The game I purchased along with the console is Ninja Gaiden Sigma. Always thinking of MobyGames, I was sure to choose the Greatest Hits edition so that I could have something to contribute to the database (cover art, in this case). I'm not sure about the screenshot aspect yet. The PS3 makes it very difficult to capture anything from the console. This is the best I can do for now, which probably won't cut it for MobyGames posterity: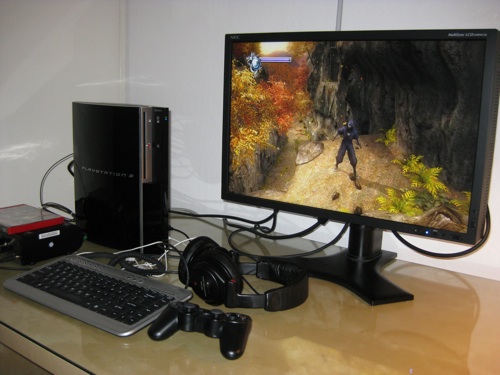 I'm cheerful that my high end NEC LCD monitor does, in fact, support HDCP so that I can play at full 1080p resolution (for the record, the NEC 24″ MultiSync LCD 2490WUXi). For audio, I have a Creative brand 5.1 system that can accept 5.1 Dolby and DTS via optical. Setting up all the speakers is a bit unwieldy, so I just went with the headphones tonight. It's good to know that I have all the right equipment; I just don't have a good environment in which to set it all up.
Sigma is great, though, at least for what I have played so far (not much). I have read that the modern incarnation of the Ninja Gaiden games are insanely difficult action games. I always figured that this squares with the original 8-bit NES series which had a reputation of being some of the most maddeningly challenging action games produced at the time (particularly the first). I completed all 3 back in the day but I wonder if I have what it takes to push through this thing.
I feel helpless without screenshot capability. I get twitchy when I boot up a game for the first time and am not compulsively capturing screenshots of anything halfway interesting or useful for documentation purposes. Indeed, it's difficult for me to just sit back and enjoy a game these days without obsessively thinking about documenting it. I have read that version 2.5 of the PS3 firmware (due last October) introduced the ability to capture screenshots and view them in the PS3's photo gallery, a feature that was supposed to be opt-in for individual games. I can't figure out if that ever came to pass, how to activate the feature, or if Sigma allows it.
The PS3 unit is quite amazing. Blu-Ray playback is more seamless than DVD playback ever was. I have played DVDs on a variety of DVD-ROM drives and standalone units and it has always been a clunky and somewhat unresponsive experience when navigating menus. Blu-Ray feels much slicker, at least for this one movie I have (last year's Tropic Thunder).
Of course the unit came with a bunch of cables. The bizarre thing was that I packed them all right back in the box, unopened, because they're all quite standard and I already have spares laying about– a standard PC-style power cable, a mini-USB connector for the controller, and for video, I already have the appropriate HDMI/DVI cable for my monitor.
See Also:
At MobyGames: