I played G.I. Joe: The Atlantis Factor a little bit tonight. I long had an aversion to the original G.I. Joe NES title from Taxan– I remember it being somewhat difficult, or perhaps I just was not up to the challenge. The graphics and gameplay were up to par, though. Capcom snared the license for this second title and I had high hopes.
The storyline involves the Cobra organization raising the lost continent of Atlantis. The G.I. Joe team has to infiltrate the place and put a stop to whatever is the bad guys are going. At first, General Hawk goes it alone but collects more team members as the game proceeds.
This is the first miniboss, a giant with an equally large cinder block sledge hammer. He may or may not have been a canon G.I. Joe franchise character with his own action figure; I never kept up with G.I. Joe as much as I did with Transformers.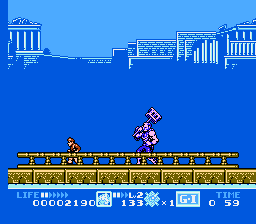 There is no strategy at play here. Just hope you have powered up your primary gun enough, haven't taken too much damage yet, and give him everything you've got, head on.
Another notable feature of this game is the wackiest password system I have ever encountered in any NES game: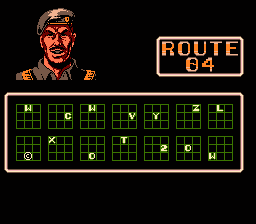 I am ecstatic that I never rented this game and, therefore, never had to copy down a single password for this game.