Destined to become a MobyGames description paragraph very soon: In Garfield's Mad About Cats, Jon expresses displeasure with Garfield the Cat's lack of motivation towards performing traditional rodent control duties. Still, Garfield is sympathetic to the mouse problem and assumes his alter-ego of Dr. Frankencat and, along with his assistant Eager (Odie), descends into the mad scientist lab in house dungeon. The mission: Create the perfect cat. To that end, Dr. Frankencat uses his computer to identify the most perfect traits of various cats from around the planet and assemble the features into a perfect cat.
The game is pretty slow moving at first and about 10 minutes in, I get a little worried that this might not be an actual game. The game allows you to select an attribute, such as tail and roar, and investigate a variety of cats from around the globe. When you do, Eager/Odie fetches a dish from the region where the cat hails from, as well as a bag of the specified attribute. Odie goes to work with the attribute while the big computer plays a brief video factoid about the selected feline species.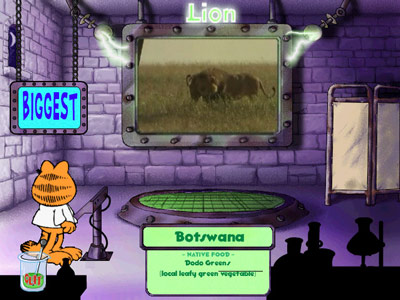 My non-gaming fears are assuaged when the the game asks me if I would like to play Disco Jon. This turns out to be the first in a series of 12 random minigames/activities. The goal of this one is to memorize and replay the sequence of buttons to make Jon boogie down: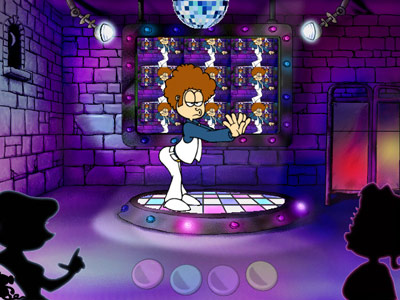 I like the metaphor present in this minigame: You only get 3 chances to get it right. Each time you screw up, one of the babe silhouettes loses interest and slips away.
Other games include a Whack-A-Mole clone (Whack-A-Rat); a Breakout clone (Burp Game) where Garfield uses his own belches to keep a mouse up in the air to hit all the cheese bricks; and a Space Invaders clone (Hack Attack) where a fleet of Nermals are descending upon Garfield and he must beat them back by coughing up hairballs. I was fairly disconcerted to see a sliding tile puzzle (Odie Maze)– I hate these, I hate these, I hate these! But this was the most messed up minigame by far– Fowl Shot: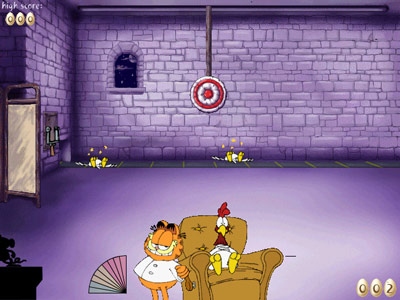 Plant some poultry in the spring-loaded recliner, twist the chair to aim for the moving target, and fire. Even if you miss, as I did every time, it's still great fun.