I sometimes need to remind myself that, when I have some time to play a game, I don't necessarily have to play a game that is not yet in MobyGames. I have an impressive backlog of games that are already in the database but just require screenshots. So in the interest of screenshot recon, I played 3 completely unrelated titles whose records just needed a few screenshots for posterity.
The first is G-Nome. It made me realize that the only thing that could possibly frighten me more than a real-time strategy game, complexity-wise, is a mech simulation. Perhaps Steel Battalion was onto something when they opted to package a gargantuan custom controller with their game. My only guide to the controls was the configuration screen, which went on for pages. I got just enough of an idea, launched into a training mission, and then backed out to study up on more controls. Unfortunately, I am ill-equipped to play G-Nome as it appears that the game requires most of the keys of an extended keyboard, including the keypad. I have an abbreviated, laptop-style keyboard for my desktop (hey, my cat needs the extra space on my desk for sleeping).
So I did not collect too many screenshots for G-Nome. I was able to figure out how to make my mech walk, turn, and shoot. I found the base, or something, shown below since my radar seemed to think it was a target. All the shooting in the world didn't elicit a reaction.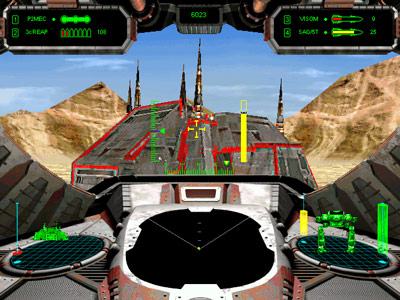 It's mildly disheartening to realize that I'm woefully out of my element when not playing a very simple game. So let's move on to another game in the popular (because there is more than 1 title) Let's Ride series of equestrian simulators (not to be confused with the Time To Ride series), Let's Ride: Friends Forever. In the last episode I covered, I couldn't find anything more to do than tend to my horse (as a girl) and race around the same 3 darn barrels. At least in Friends Forever, the series has expanded to include a male player character. Regrettably, there is even less to do in this version. I'm not even sure if it's possible to mount the horse: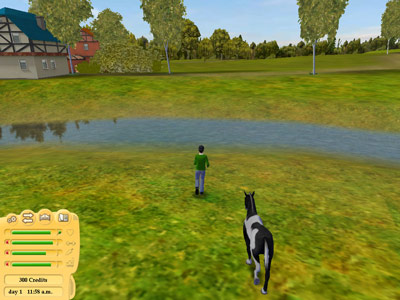 A game like this features braindead simple controls on which it tutors you every step of the way. When it came time to go outside with my horse, it was not at all obvious how to mount the horse. So I can only conclude that doing so is impossible in this game. Indeed, the entire game appears to revolve around caring for your horse and prepping it, and yourself, for the equestrian beauty pageant. The things I put up with for this gaming project.
After all that, I thought maybe I deserved an enjoyable, action-oriented gaming experience with another recent acquisition called Dead Reckoning. You would think I'd learn by now that all the good games are already in MobyGames along with lots of illustrative screenshots. I pegged this as a Descent clone and I was right, though this game is grievously unfit to carry on the legacy of that series.
The object of each level appears to be to play a 3-on-3 death match against a squad of blue fighter craft. You are the leader of your red team and can give orders to your wingmen. I won a few rounds through no fault of my own.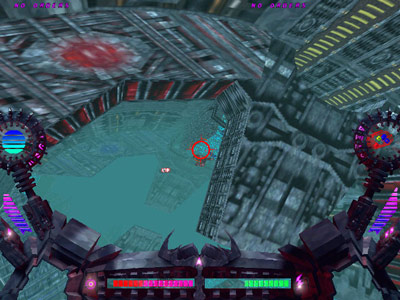 The graphics are busy yet uninspired and the play control is awkward. Maybe I'm being too hard on it and should do better to consider the period. However, the period excuse won't work for the awful music. Have you ever opened a creative program, like a music editor or painting program, and starting toying around? Would you ever submit that first round of experimentation as a finished, commercial product? I ask because the music reminds me of someone's first session with a computer music program, toying with every effect and stereo position without regard to sanity.
I caught this item in the stat screen for the Beetle fighter craft: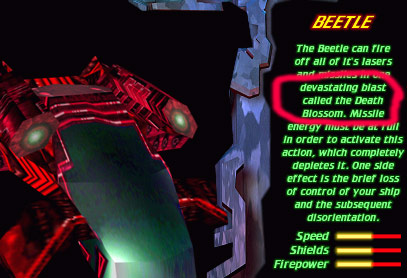 I guess I assumed that the people who made The Last Starfighter would have some kind of trademark or other intellectual property protection on the term "Death Blossom".
See also:
At MobyGames: