Tonight's Gap-themed Snow Day game — with it's Pac-Man, umm, homage — got me thinking about other Pac-Man clones. Surely, countless clones have come and gone through the years. This one, that I discovered through a bulletin board back around 1992 or so, is CD-Man by Creative Dimensions and is my favorite clone: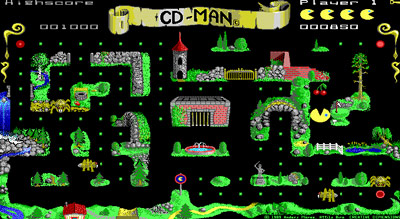 It had detailed, high-resolution, and colorful graphics, smooth animation, spider enemies, and new features such as a gated community for which your character needs a key to enter in order to complete the maze. The second maze of the game is water-themed with sharks as enemies.
Around the same time I discovered this game I also downloaded a 3D first-person perspective Pac-Man style game, which was not the first of its kind (I seem to recall an arcade game with the same theme as early as 1989). It was novel in the way that 3D graphics were always novel back then. But when I think back on it now, I don't know if it was really an idea that worked.
How about you? What is your favorite member of the official Pac-Man family (whose franchise thrives to this day), or perhaps favorite Pac-Man clone?