Tonight's goal was to shove as many educational NES games into MobyGames as I could possibly tolerate in one night. These games tend to be a nice source of database points, at least for myself and DJP Mom. It's easy to blow through them in 10-30 minutes, depending on how involved you want to get, and write a perfect database entry with very complete information and a thorough screenshot set.
There is a series of Fisher-Price-licensed titles for the NES that somehow have not made it into the database yet (couldn't be that I'm the only person obsessive enough to want the database to have all American NES games ever). The first one that I played of the set is kind of fun: Fisher-Price: Firehouse Rescue. You navigate your Fisher-Price firetruck around the dangerously convoluted streets that comprise your fire protection district: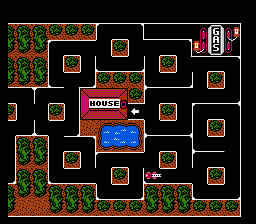 Who planned these neighborhoods?! Lives could hang in the balance depending on my response time. Perhaps I'm overreacting, though, since no houses ever actually seem to be on fire. When you arrive at a residence, you merely extend your engine's ladder to each of the smiling house inhabitants in turn who calmly evacuate for no good reason when you position the ladder correctly.
Still, I was reasonably impressed with the level of graphical detail present in this game. This should not be a big surprise because, seriously, what else would they have spent their ROM budget on? It's not a very complicated game, though the mazes get a little more challenging as the levels progress.
The other 2 Fisher-Price games are I Can Remember, a card memory game, and Perfect Fit, where you must match shapes into silhouettes: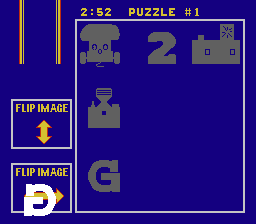 As you can see, in later levels, it becomes necessary to flip shapes to make them match. You can play either of these 2 games against another human or the computer (codenamed: Electro). It's difficult to articulate how painful it is to watch the computer attempt to perform the above exercise at the level the programmers perceived a preschooler would do it. I don't think preschoolers necessarily play games the same way drunks would.
The most interesting educational game of the evening was Mickey's Safari In Letterland. Mickey Mouse must venture to exotic locales spanning the globe — or at least, some globe, not exactly the one we're used to — and collect diamonds that have letters in order to spell out three-letter words. If you complete a stage after collecting the 3 letters and spelling a proper word, Mickey will show you a picture of what that word represents, he will spell it out, and he will say it, all with digitized voice samples. This is probably the most extensive use of speech I have seen yet in a NES cartridge.
I especially liked this detail in the 'Pyramid' location: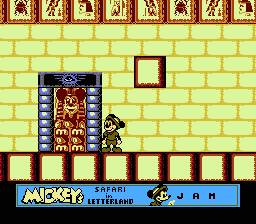 A mouse sarcophagus. Mickey faces all manner of ferocious creatures in this game, including, but not limited to, hippos, snakes, alligators, porcupines, and perhaps most terrifying of all, seals (in the high, snowy Yukon). However, it's absolutely impossible to fail in this game. The enemies are all essentially rubber off of which Mickey bounces. Long falls daze him a bit, but he gets right back up on his adventure.
4 games down tonight, and there are still a few more educational NES titles to go.