I worked through a bunch of educational/kids games in this final push towards 10K points (not sure if I'll actually hit that goal by January 1st, but it won't be because I don't have enough material stuffed in the MobyGames submission queue; as of this writing, I have 13 new games waiting for approval which might be a personal record).
Let the record show that I gave Pecos Bill my best shot to no avail. The game wants 640x480x256, and I just couldn't get my system into that mode, not even with all the compatibility settings. But I do have a rogue version of Apple QuickTime 2.0 running around my system now, thinking that it's in charge of viewing QuickTime, JPEG images, MPEG movies, and assorted other file types.
I then dove into Fisher-Price: Learning In Toyland, a series of games & activities that, while simple, can be described in a complicated manner. For example, I described Fliptrack Mountain to MobyGames as dealing with transport logistics at a level that a child can understand. The game presents you with a transport task (like delivering a present from the top of a mountain to a house elsewhere on the mountain) and challenges you with deciding what transport option would be most appropriate– car, train, boat, or helicopter.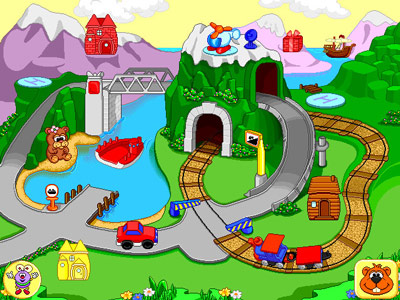 Another activity revolves around following a cookie recipe: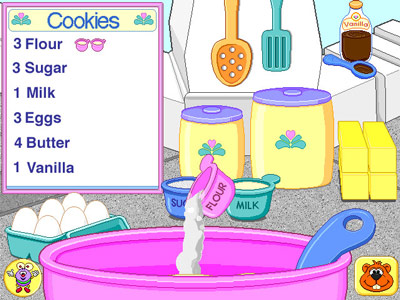 Ahem, I know cookie recipes and at first I was ready to call nonsense on the ratios represented in this recipe. But then I noticed that it just seems to be a matter of making rolled butter cookies, and the proportions look a little better.
I subjected myself — however briefly — to another Mister Men and Little Miss title (you may recall The Adventures of Little Miss Scatterbrain). This game dealt with one Mr. Tickle. These games are perhaps more insufferable than the Make My Video games, though I concede that at least these have an excuse since they are directed at a less serious market.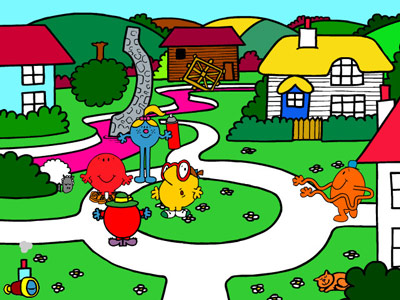 That does it– I refuse to actively seek out any more of the titles in this particular series, and I know there are a bunch. MobyGames is going to get a really lackluster description for this title since I simply could not handle it for very long.
But then I tracked down an awesome little game based on The Flintstones called Bedrock Bowling; perhaps not strictly educational but definitely kid-targeted, so grant me some reprieve today. Curiously, it comes from a developer named Adrenalin Entertainment which, if you examine their record, already has a few bowling-themed games to their record. This makes me wonder if they went out of their way to come up with a bowling angle when tasked with creating a casual game for the Flintstones franchise.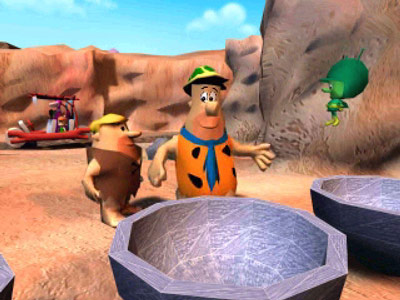 Fred Flintstone is ready to clock out of work and practice for the bowling tournament but his boss threatens him with summary termination if he doesn't finish a series of trenches by the next morning. A little green, floating, omnipotent alien named The Great Gazoo shows up and saves the day. Gazoo strikes me as a highly insecure Q-like being, who really just wants people to like him. Anyway, he uses his powers to create a series of trenches for Fred. Then he helps him practice bowling by giving him some giant bowling ball half shells that he can use to race through 8 trenches. The levels are highly detailed and animated and quite fun to play.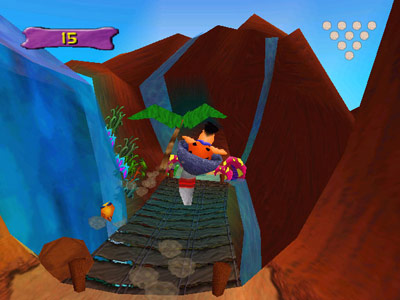 Each lane has 2 segments and you have to do "well enough" by the checkpoint in order to continue with the second segment. I could never quite figure out what "well enough" was, though. It didn't matter, though, since nothing ever prohibited you from progressing to the next of the 8 lanes.
Finally, I played a Disney Lilo & Stitch title and ultimately decided I had had enough. I spent much of the game time staring at this minigame, such as it is: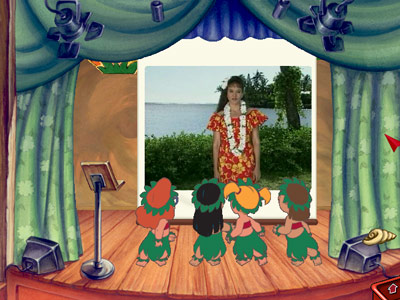 You basically get to interact with things on or around the stage, and you can poke the young girls to make them dance for you. You can pull down the screen to watch an FMV of an actual hula dance lesson. The title is supposed to consist of 9 minigames of which this is the first. I eventually learned that clicking on the shell carries me to minigame #2 in which I am expected to help an otherworldly monstrosity by the name of Stitch bumble his way around his spaceship's crash site picking up junk.
I guess if I've learned anything from educational games this year, it's that there's a threshold to what level of educational game I can tolerate– the preschool/toddler games are right out. On the other hand, I really enjoyed the Spy Kids Learning Adventures series, which were geared for ages 7-10. Take from that what you will.