Wow, what is it with the uninspired NES titles lately? Castle of Dragon, Sword Master, and now Dragon Fighter. I just wasn't too excited about even attempting Dragon Fighter since I recall it being some dopey-looking martial arts game. However, I must have been thinking about Dragon Power instead.
Dragon Fighter, it turns out, is a side-scrolling action game with some unique gameplay ideas. Your hero is the basic, run-of-the-mill fighter with a sword. He starts out in a decidedly unusual winter locale fighting some surprisingly nimble and acrobatic ursine creatures, to say nothing of the giant, killer snowflakes, the likes of which I never had to deal with in Snow Day: The Gap Kids Quest.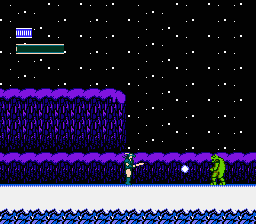 I like the snow gently falling on two apparent planes which is a nice graphical effect– reminiscent of the directional snow in Ninja Gaiden II, which actually figured into the gameplay.
So I'm just walking along, jumping and slashing, when I discovered how this game earned its title– I can turn into a dragon: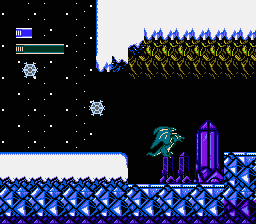 At first, I thought that perhaps I turned into a dragon at certain pre-determined junctures, and back into human form later. The correct answer is that the player can actually control both events, to an extent. You can change into a dragon after you have powered up a secondary power meter (up + A to transform to dragon), and you stay a dragon until either you run out of power on that secondary bar or until you manually transform back to upright biped form (down + A to transform to human). While a dragon, the game assumes a shmup style of gameplay where the dragon is always flying, always facing straight ahead (where the human can face either direction) and can shoot fireballs in a spread formation. I learned later from watching the speed run video that in human form, the hero can hold B to power up the sword and fire off an energy projectile.
The game features 6 diverse levels, from snow level, to water level, to haunted castle that has all manner of menacing body parts. This section has a creative boss: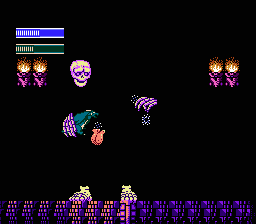 Various body parts form together to play the part of boss, while leaving a large, exposed heart open to attack. It's a novel use of minimalist video game artwork, though a tactical nightmare for the doomed boss.
This was a fun game to play, though incredibly tedious with the trial and error necessary. So I loaded up this tool-assisted speed run video. I'm pleased to report that this has to rank as one of the most entertaining speed runs I have viewed to date. The sixth and final level is played entirely in flying mode (unlimited dragon power at this point). The speed runner largely takes a pacifist approach by avoiding enemies and their projectiles while almost never returning fire. As the speed run description states, "I made the dragon move to the beat of the music for most of this level while taunting the enemies."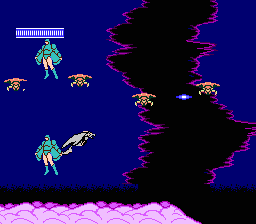 It's hilarious and rather exhilarating to watch.