Thanks again to Mans for furnishing a FreeDOS VMware image that enabled me to try Lost Eden without resorting to an actual vintage machine. The image came with the now-GPL'd Doom in order to verify that FreeDOS could play a DOS4GW-based game. Since it was there, I had to give it a go for old time's sake: A brief diversion that's still fun. I started to wonder why it maintains its enjoyability. Here's one factor: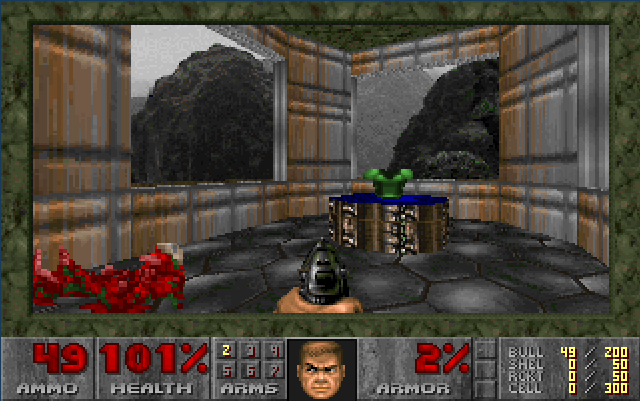 You go up the stairs from where you begin into a turret with some body armor. Outside the windows, you can see expansive, isolating mountains. It's atmospheric. It grabs you. The manner in which the mountains are presented gives a real sense of depth. I just love those mountains. I remember seeing this game — and those mountains — in action in the early days of its release at a local computer shop that was showcasing it on a very large monitor (19″, maybe 21″, whatever it was, it was ridiculously HUGE at the time when 14″ tubes were the norm). And that mountain scene is what made me remember the moment.
Its simplicity is the next engaging aspect. It's not difficult for a newbie to dive right in and start killing monsters. Story time: In the spring semester of 1997 I was a teaching assistant for an experimental course called Internet For Everyone (incredible! The University of Colorado still maintains a record of the courses for that semester). Despite its high course number, it was actually just a basic internet exposure course in the early days of the WWW. One of the lab exercises dealt with (get ready for it) finding games on the internet. One of the students in my lab found the Macintosh port of Doom sensibly titled MacDoom. She started playing…
I witnessed a curious transformation in the span of a few minutes. She bumbled around the first room where there are few offensive threats to your health. Eventually, she found the door that leads to danger. An alien spits fireballs. She's sustaining damage. "Ah! What do I do?!"
"Shoot back! Ctrl key," I bark back. She does so. Monster dies.
Brief calm after the storm… then, wide-eyed, the student exclaims, "That was awesome! What else can I kill?!"
So, yeah, she aced that lesson.
(Here's an old copy of the Internet For Everyone course materials; note one of the course textbooks on the syllabus: "The Road Ahead" by Bill Gates.)