My new favorite thrift shop had a whole bunch of games from a series called Disney's Hot Shots. Figuring that MobyGames already has decent Disney game coverage, I conservatively picked up a pair that were only a dollar apiece. I should have snatched every one that they had since none are in the database yet (at least not with the "Disney's Hot Shots" prefix). These games come from that most conducive of genres for getting easy MobyGames points: the casual game. These 2 casual games are based on The Lion King II: Simba's Pride from 1998.
The first of the pair is Swampberry Sling. I guess you could classify this as a Disney-themed first person shooter. Defend your position with swampberries against snakes, crocodiles, fish, vultures, frogs, and other threats. But don't hit the babysitters Timon and Pumbaa, who frequently wander through the warzone on bicycles and windsurf boards: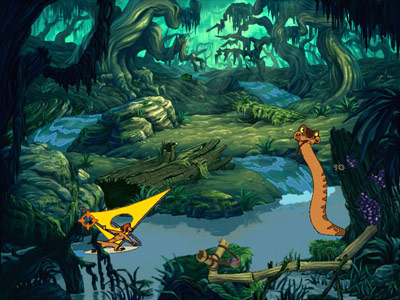 Hey, it's every bit as fun as the jewel case copy promises. The second game is Cub Chase and is an obvious Pac-Man homage. Instead of eating pellets, the cubs work to leave their paw prints all over the maze. Timon, Pumbaa, and Zazu stand in as the ghost metaphors (babysitters in this story arc), and there are ways to neutralize the babysisters such as a hyena mask or a log with tasty bugs. This is the hyena mask in action, paralyzing Timon with mortal terror: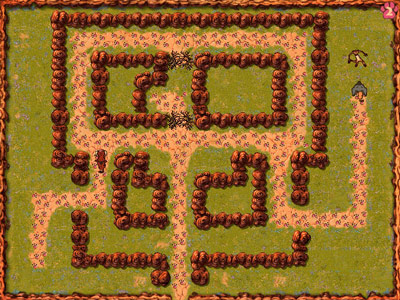 Here's hoping that no one else bothered to pick up any of the other Hot Shots titles at the thrift shop so that they will still be there next week when I'm in the neighborhood.
See Also:
At MobyGames: