I'm that much closer to collecting the entire Deer Avenger quadrilogy. Apparently, the joke hadn't completely worn out with the first 3 Deer Avenger games and Hypnotix went ahead with the fourth game in 2001. One day, I will probably see the transition from #2 to this game, Deer Avenger 3D. Without that game as an intermediary, #4 is the biggest technological leap I have ever seen for a video game franchise since the jump from 8-bit Metal Gear to PlayStation Metal Gear Solid. This time, the game is a full-fledged first-person shooter. I concede that the graphics are quite amazing, but don't forget the kinds of games I'm used to. In fact, this game is capable of running at any supported resolution from 320×200 all the way up to 1920×1440 on my machine. So I run it at that highest resolution and it takes a proportionately long time to capture a screenshot. This is the only game I have ever run at 1920×1440 aside from the Unreal Tournament 2004 demo.
The game starts off in Bambo's cave dwelling which has a remarkable home theater setup complete with a cave-mounted flatscreen television.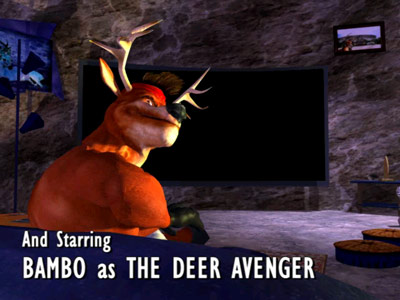 From here, Bambo has the option of watching any of the opening animations from any of the 4 Deer Avenger games. There is ample space for a trophy case and then four different passageways to differents states, 3 of which are boarded up at the outset. So I go with Idaho, my only choice. This thrusts me into a wide open wilderness that appears to go on and on at first glance. Closer inspection, however, reveals that it's actually a large arena walled off by slightly higher hills than you can ordinarily run over.
The game makes effective use of 3D sound and I hear someone singing and strumming a guitar. I follow the sound until I happen upon a hippie specimen. I sneak up on him and open fire. Predictably, he freaks out and starts running around the woods. He's easy to catch and I keep plugging him with my side arm but he just won't stay down. I would eventually realize that he is in tune with nature and is actually here to help me, despite my cursory efforts to treat him as I would any other human in the game. This assistance comes in the form of food powerups which are actually used for actuating 4 different types of farts.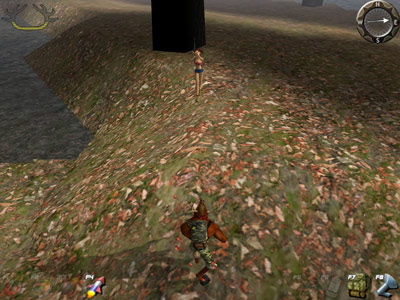 Deer Avenger 4 action screenshot
I quickly establish a gameplay routine that works like this:
Run around the arena landscape collecting any powerups I can find; these seem to be most abundant along the perimeter.
Activate the magnet fart (broccoli) whenever available since that is alleged to attract hunters. This strikes me as being as ineffective as calls were in the first game for the same purpose.
After a few minutes of tooling around the forest, a hunter inevitably appears. You know that they are on the map when the country twang music kicks in. You can also hear them somewhere in the distance. You can try to follow the sound of their voice or you can make use of your Taco Hut-powered compass fart which will blow in the direction of the hunter. Magical.
Make a bee line for the showdown with the hunter, using a rocket fart-powered assist from a hot dog powerup if you are in a serious hurry.
When the hunter is in view, things degenerate into a serious dogfight. Take cover and get in a shot whenever possible. You can't take much damage so be extra careful or risk playing through the above steps again and again.
The hunters seem to have better weapons and aim, at least at the outset of the game. At least you have infinite ammo, though you do have to reload occasionally from your infinite stock. If you can get close enough to a hunter, unleash the chili-powered nuclear fart for a quick resolution to the hunter conundrum.
Yeah, vulgar and disgusting, just like the rest of the Deer Avenger series. But undoubtedly an effective use of fog effects available on advanced video cards.