Time to get back to it, especially since I have finally completed acquisition of the entire Deer Avenger tetralogy with the recent eBay find of Deer Avenger 3D. Based on the story told by the opening animation (partially through that timeless plot-unfolding device, the Star Wars scroller), this is what I told MobyGames about the game: "Our hero Bambo seems to have found happiness with a new doe bride, while believing that the dreaded human hunters have forever been vanquished. Just as the pair is about to engage in intimacy, small woodland creatures appear at their window to urgently warn of the hunters' return. Bambo's bride laments that she can't get into the mood while the creatures of the wilderness are threatened. With a cry of soul-wrenching anguish, Bambo finds himself curiously motivated to strike out to dispatch the bipedal enemies once more."
So, that's probably the most interesting part of this episode. I'm glad I skipped this one and went straight to 4; if I had played this first I might have had a severe aversion towards the fourth installment. It feels as though the designers were still trying to hold on to certain gameplay characteristics from the first 2 Deer Avenger games, whereas #4 went full on into FPS-type territory.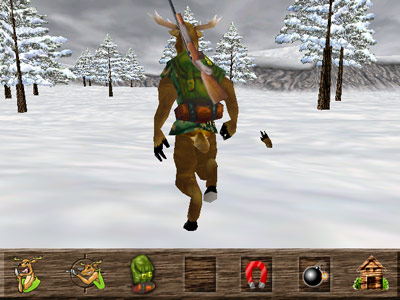 I take Bambo out into the wilderness equipped with something from his arsenal (whose selection grows as enemies are offed). I wander around the mountain-enclosed, snow-packed arena, laying out a lure here and there and finding the occasional fart powerup. That's an unfortunate mainstay on the entire series, a disgusting one that's not altogether welcome after I've just eaten. Fortunately, the farts aren't as visually detailed in this game as they are in #4; in fact, they come out as pixellated white clouds. (Aside: It finally occurs to me that in his quest to rid the forest of stereotypically vulgar rednecks, Bambo has lowered himself to their level. In effect, he is no better than his enemy, a profound theme that underlies the entire series.)
So I eventually hear a hunter in the arena: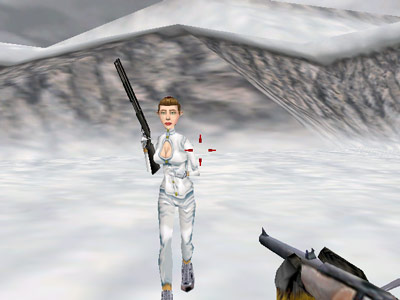 A female hunter, no less, and in a revealing hunting outfit. At least, I think she's a hunter. She could be a jogger with a rifle. I chase her around and around a bluff and just barely keep pace with her. After I notice that she keeps trotting in the same circle, I wait in one spot for her to run by– but I can't seem to hit her. Eventually, it occurs to me to move into her path and shoot her directly. I still can't land a shot and she still doesn't take up arms against me. However, she does run off after I attempt this new strategy; I don't know if she became scared or if she had finished her little workout. I keep thinking that maybe she was just a jogger, but she did have a gun for which she verbally expressed inordinate affection.
In addition to the normal modes of travel that include both walking and running, Bambo can now jump. It's a very stylish, powerful jump. But I honestly don't see any practical application for it through the entire game. The gameplay is rather odd and even ineffectual. You guide Bambo from a 3rd person perspective around the wooded arena using the keyboard. When it's time to shoot, use the mouse to select the first person shooting view. From here, you have very limited mobility — you can basically rotate about the point where you stand and fire. This puts you in a precarious situation if the hunters decide to shoot back — which, oddly, they rarely seem to do.
Emma Sue shows up again and isn't on her workout anymore. I make short work of her since she's not running. I take care of 2 other hunters soon afterwards. This game is pretty easy, especially compared to #4 which actually required some strategy. There are also some harmless humans, typified by the hippie who also shows up in the fourth game. Don't shoot them (too many times) or it's game over: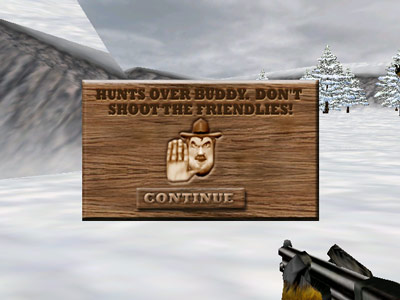 This is the ultimate weirdness that I have seen throughout the entire Deer Avenger series — a forest ranger who implicitly countenances your slaughter of human hunters.