Remember how I mentioned that interior decoration in the form of choosing and arranging furniture was not my proverbial cup of tea in the game of Restaurant Empire? This Gaming Pathology experiment has reached new lows in emasculating gameplay. Check this out– a minigame that revolves around measuring and cutting drapes: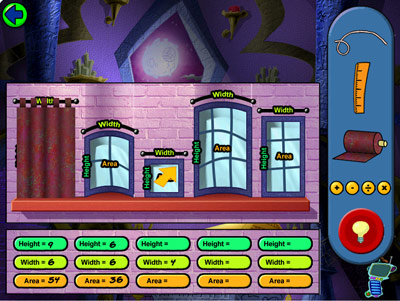 This comes from today's game, Cyberchase: Castleblanca Quest, ostensibly based on a PBS-produced educational TV series (and it shows in the opening animations that were poorly transcoded from television source material). This follows the same general formula as countless other educational kids' games: A series of odd minigames strung together by a tenuous storyline. In this one, our 3 young protagonists visit the town of Castleblanca, a village run by horrid but civil monsters. The 3 kids also have a mutant bird in tow who sounds like he's voiced by the ever-grating Gilbert Gottfried, but alas, the credits indicate otherwise. And even though the unholy undead are supposed to be the comically frightening aspect of this town, this no-eyed skeleton can't hold a candle to the unnaturally glassy-eyed stares of these young ones: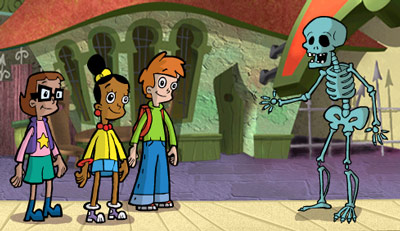 Regarding the actual gaming content, there are 8 minigames/puzzles to play through. All have practice modes that are significantly easier than the actual games in the adventure mode. Each game teaches something to do with mathematics or spatial reasoning. Most are a little difficult to wrap one's head around at first. But after some practice, the purpose usually clicks. For example, in the Monster Dive game, there is a tank with a low volume of water. The scoreboard tells you how much depth is required for the current diver, plus a custom adjustment for that diver. You must do the math to decide the water level and drop more monsters into the tub to displace water and raise the level.
All in all, this was my favorite minigame: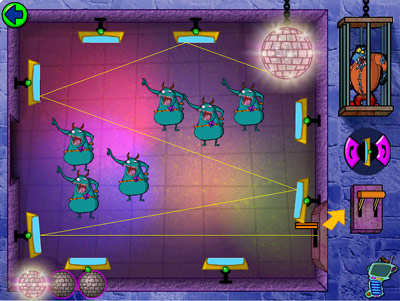 Your task in this Disco Deflector game is to adjust the mirrors so that when you throw the switch, the light beam finds its way to the mirror ball without hitting any of the monsters. Then they can boogie like they were meant to.