I know I vowed not to procure anymore games until I made a significant dent in my existing unentered stock. But really, how often do I find myself in the public library in Marina Del Rey, CA browsing a Friends of the Library merchandise section with the opportunity to buy a CD-ROM for a dollar? Ordinarily, I wouldn't be too hyped about cribbage, a game with which I have absolutely no familiarity. But Cribbage Quest caught my eye because it comes from ZEMNOTT, the creators of My Fantasy Wedding. So I guess what I'm saying is that I laid down the dollar so that this obscure game company could have better coverage in MobyGames. Because that's what I'm all about.
So I thought I would make that my year-end game. Guess again. Cribbage Quest is very non-functional on my system. All I get are a series of graphically-glitched screens. I think the thing is written all in Flash 6, too: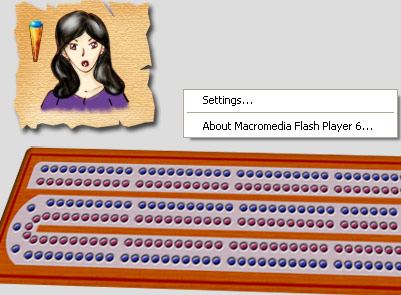 At least I learned a little about the game of cribbage since I felt it prudent to do a little Wikipedia research on the matter. I figured the game would at least feature some kind of tutorial but that turned out not to be the case. The title screen only presents the player with story mode and adventure mode.
After I broke down on my little vacation and bought that dollar CD-ROM, I really fell off the wagon and returned to my favorite thrift shop. In my absence, they managed to accumulate an alarming number of games that MobyGames and I have never seen. The most curious disc I picked up just had some feminine silhouettes along with the print: "The Longer Lasting Axe / V.I.X.E.N.S.: Very Interactive Xtremely Entertaining Naughty Supermodels". I had no idea if it was a game ("interactive" is promising) but I had no shame in purchasing it in the same stack as 2 more Barbie games.
When I popped in the disc, some Axe brand body spray wanders across the screen, transparent against my desktop. Then Naomi ("do you know what 'Naomi' is backwards?"), apparently my hostess for this experience, describes how women will start appearing randomly, like this one doing some gymnastics on the water of my desktop wallpaper: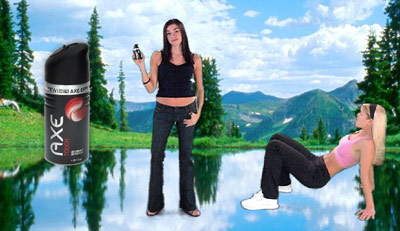 So I install V.I.X.E.N.S., hoping to find some kind of gaming content. But I'm pretty sure it's not there. Long story short, this seems to be a viral effort from the folks at Axe. When you install the largely Flash-based program/background service, the program trains itself on your voice using the following romantic passage: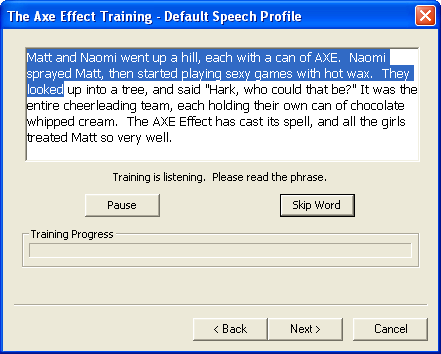 The upshot is that you are supposed to be able to speak various trigger phrases and see hot women show up at your beckoning right on your computer desktop.
Since I lack a microphone, I was unable to receive the full experience. However, if you would like to try it for yourself, the V.I.X.E.N.S. program is still freely available for download from the original, official site (about 340 MB); clearly, they also distributed it as a CD-ROM, probably through select periodical publications. Even though V.I.X.E.N.S. is apparently a background service, Spybot Search & Destroy thankfully does not peg it as any kind of spyware/malware.
See also: