I'm laying off the interactive movies until such time that I feel motivated to work on a non-PC system. So now for something completely different. How about a kids' game called Creatures Adventures? All I had to go on for this game was a bare CD-ROM, received in a large CD-ROM lot, with pictures of some fairly creepy little creatures. These little guys are just goofy enough that I have to assume that the game is for kids.
I have little to work with so I jump right in and see what's going on. The game installs without incident and has a movie you can play from the install dialog. I would upload it to YouTube but it's a Bink file which is not yet supported by the service. The movie is an overly long sequence showing the creatures tediously spelling out the word "creatures" using a variety of weird methods and coincidences. I think this approach would work fine if the word in question was at most 4 letters long, but no longer. The final letter is launched via a special letter-launching weapon using a makeshift sniper scope, always a nice touch for a kids' game: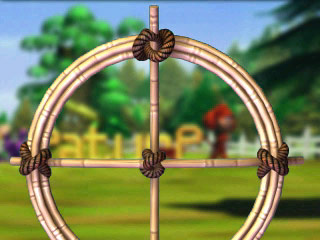 There's really no exposition when I begin playing the game. I start off in a baby's cradle room where there are a few eggs on the floor, a cradle, and about a hundred other things to interact with. I click on one of the eggs and drag it to the cradle. A few moments later the egg hatches to reveal one of the little beasts who immediately toddles out of the room. I hatch the second egg as well. That's when I realize I'm expected to take care of these little demonspawn.
I did a little googling and it seems that the eponymous creatures are members of a debatably adorable race called norns. The educational opportunities afforded by this game are listed as "taking care of others", according to Amazon.com's entry. Somehow, I don't think playing this game would qualify you as a nanny.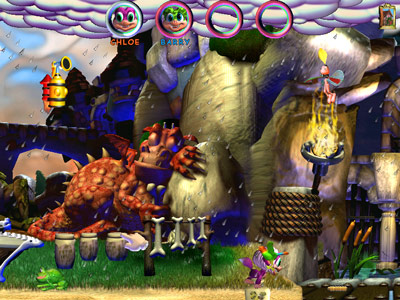 Oh my, there's a lot going on here. Where to start? There are up to four wee norns and you can quickly switch between them using the four bubbles on top. You micromanage their affairs and presumably try to keep them out of trouble (though I couldn't find any immediate threats to their health and, yeah, I looked). You can dress them, feed them, advise them where to enthusiastically wander next, and even drag them around as you see fit. While the norn brat is exploring the world, you can click on nearly anything you see in order to interact with it. I rather enjoyed the above magical forest, dark and foreboding though it was, since most everything was a musical instrument of some sort. Groovy. Unfortunately, the purple norn pictured wandered into a castle (or maybe I told her to go there, I'm not sure) and was immediately presented with the most hated (by me) tile-based puzzle: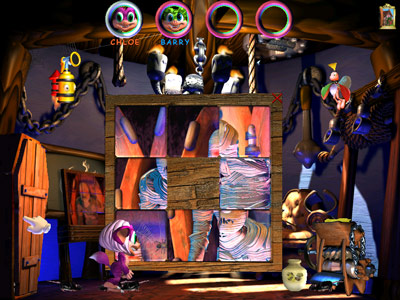 I despise these so much. It's probably just me (in fact, I know it is), but I have never been able to solve one of these. The very same puzzle stopped me dead in my tracks while playing Resident Evil 4 in a way that no mutant zombie boss monster possibly could. So I pretty much left the purple norn to her own devices, who eventually dozed off, and went to monitor the green norn who, though young, was smart enough not to wander into forests where there are dragons quite visible in the background.
There are two omnipresent… things… floating wherever you go in this game. First is the horn with a firecracker strapped to it in the upper left quadrant of the screen. Clicking on this seems to swoop down a quickly shower the current norn. The mosquito-looking creature in the upper right quadrant swoops in and apparently entertains the norn briefly. Easily amused.
The game is quite the visual treat though I wasn't sure what I was supposed to do, nor what the end goal was. One of the more interesting areas I meandered into had a wooden ramp up to a platform. On top of the platform was a bell. When rung, the bell summons a horse-drawn emergency medical center. Maybe this would have been useful if I could have hurt my norn somehow, likely inadvertently. There are also night-day transitions and weather. Norns don't seem to like getting wet.
Lastly, I noticed that the game has extensive parental controls available. Parents can actually set per-child playing limits and bedtime. Just imagine that someone had to test this stuff.
Hmm, I just noticed that there is a help file installed along with this game; might have been useful an hour ago.
See also:
At MobyGames: