Tonight's title is extremely confusing. I was trying to keep with the theme of commercial tie-ins. I remembered picking up a Campbell's Soup CD-ROM. The confusion alluded to in the title derives from these facts:
There are 4 software titles on the CD-ROM and on the sleeve
The titles imply that all 4 will be available on the CD-ROM (3 educational games and a calendar creation app)
The CD-ROM displays a volume label of TMUNCHER; the closest any of the listed titles come to this title is Knowledge Munchers Deluxe
There is clearly only 1 game on the CD-ROM — not 4 — and it has something to do with munching
So out of the 3 games that could have been on this disc, I fortuitously came to own the disc with the one game that presently has no entry in MobyGames — Knowledge Munchers Deluxe, which the title screen explicitly notes used to be known as Trivia Munchers Deluxe. So I guess when I get around to adding this game, I will have to list it as that latter title with the former title as an alias. And I will have to add this cover art set as a 1999 Campbell's Soup re-release.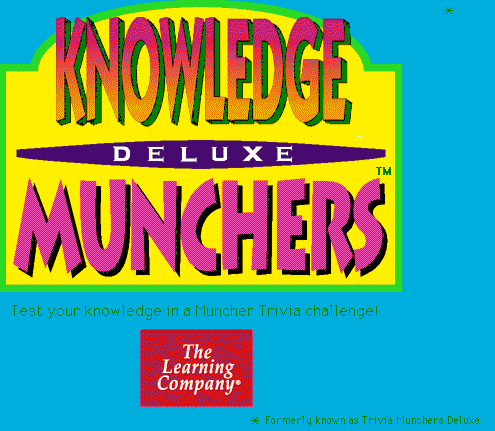 I am glad that my curiosity is finally satisfied pertaining to the ultimate payoff when saving Campbell's Soup labels for education, something that many of us did as children (oh, please don't tell me I was alone in this).
It occurred to me to search for 'muncher' titles. Turns out that there is a whole series revolving around a protagonist named Muncher. Muncher is literally hungry for knowledge. It is your job to guide him to the correct answers so that the little green glutton can gleefully gorge on them.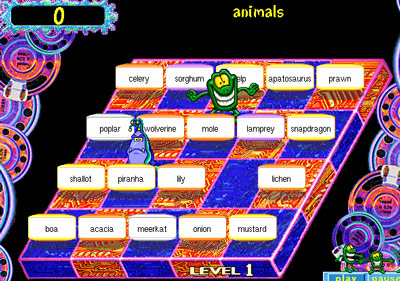 And that's really all there is to the game. Our hero has 2 weaknesses– wrong answers (apparently poison) and adversaries, collectively known as Troggles, such as the overgrown slug pictured. The creators were obviously quite pleased with the various Troggles as they meticulously named and animated each one.
The trivia on offer is incredibly configurable and features levels 1-4 and ultimate. Within each category of trivia, the player can select sub-categories of trivia to be asked (or not).
One more interesting detail: this game has an original copyright date of 1996. What month was it released? Maybe this computer chip, embedded in the game over screen, serves as an Easter egg for video game historians?

See Also:
At MobyGames: