Time for another intensely lightweight, kid-targeted video game romp– let's face it, these games ain't gonna enter themselves into MobyGames. And I even located a pile of stuff procured from eBay back in March that I forgot to log into the master spreadsheet. It just doesn't end!
Tonight's fluff-fest is Clue Finders: Mystery Mansion Arcade. It comes from a franchise of Clue Finders games which generally appear to be educational. This title is actually a collection of 4 games, only one of which could conceivably be loosely tagged as having content remotely academic. The setup is that an all-star team of villains who debuted in previous Clue Finders franchise games has been assembled by a new mystery villain. This collaboration plots to lure the team of protagonist children into their home. These villains hold serious grudges towards the Clue Finders based on their previous encounters. The game contains a Rogue Gallery menu option where you can view dossiers of each villain. Cleverly, the dossier also includes a mention of the franchise game where the antagonist premiered. This is the dossier for one Pericles Lear: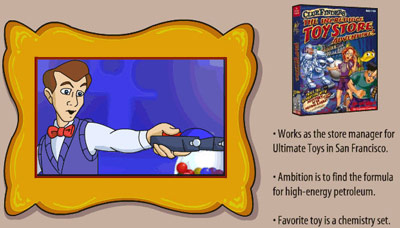 So, the guy lives and works in San Francisco and has an affinity for chemistry. On closer examination, I just noticed that the above data does not really paint a menacing portrait of a criminal mastermind.
Anyway, there are 4 Clue Finders, 4 villains, and 4 traps/games. Each villain designed one trap to ensnare one of the children. Fiendishly, each trap is tailored for each child's specialty. I suppose I shouldn't try to understand why diabolical crime geniuses would give their victims a fighting chance in this manner. The first game has Owen, the team's skateboarding nutrition specialist and pizza enthusiast, skateboarding on giant pizzas using a giant sub sandwich as a skateboard. Given Owen's passion, I can understand that he might be a natural at this task. But if his task were switched with Leslie's book task, both of these young go-getters might just meet with their early demise as intended.
Speaking of Leslie, her task is to jump on books. This takes a few sentences to explain, but it was my favorite of the four games on offer: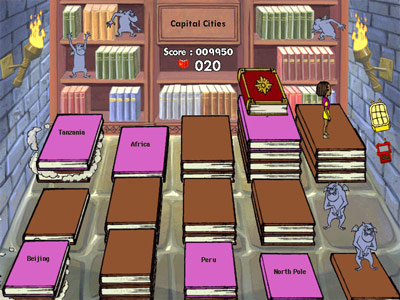 The back of the library has a topic; in this case, it's capital cities. The demons on the bookshelves are tossing books into the room. Leslie must only jump on books whose titles contain capital cities. When she jumps on a qualifying book, that book becomes permanent. If she jumps on a book with a non-matching subject, she crushes it. The idea is to stack permanent books in order to climb to the exit. When she has stacked enough books, a rope ladder extends down so she can climb up. Sometimes I would disregard the ladder since I was having too much fun hopping on books. Leslie can jump 1, 2, or 3 books horizontally, 1 or 2 books vertically, and 1 book diagonally. It takes a little practice to master the jump control but is quite fun.
Leslie's is the only one of the four games that struck me as even marginally educational. And even that was questionable since the game seemed to feature an embarrassingly limited dictionary of terms related to each category.
Santiago's task is to play a series of pinball boards where he is the pinball. Actually, he is in the cockpit of a rocket-powered pinball. He can turn and thrust and somewhat control his destiny but is still at the mercy of the various actuators on the board. He must solve various puzzles on the board in order to escape.
The final game deals Joni along with whichever other members have escaped from their respective traps. It's actually a fairly competent little parallax side-scroller.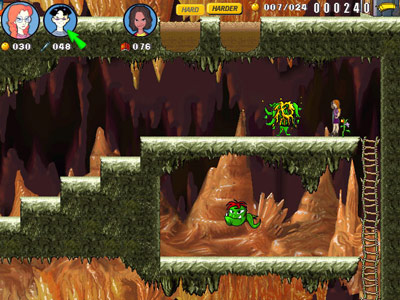 Choice quote: The kids' timid talking laptop, LapTrap, says of the probably-forged email that lured the gang to the game's eponymous dangerous abode: "Why don't email servers ever crash when you want them to?"