I'm working on a few other things right now so I wanted another easy game tonight. According to my master spreadsheet, Clockwork Knight still needs screenshots, and could use a much more thorough description to boot.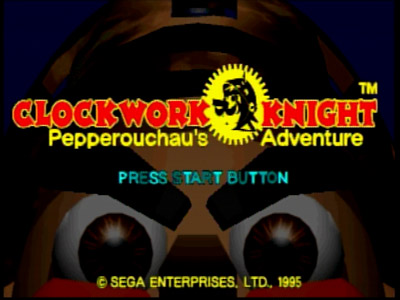 This game was published by Sega for the Sega Saturn in 1995. You may recall that late in 1994, a little-known company named Pixar burst onto the scene and revolutionized children's movies forever with their movie Toy Story. Now, I'm not charging that Clockwork Knight is a brazen rip-off of Toy Story, but someone has some explaining to do. This game, like that movie, features a roomful of toys that come to life and have magical adventures when the kid leaves.
But let's not dwell on the plagiaristic aspects. Instead, let's dwell on the game's lavish musical numbers (a hallmark of the game, apparently). The 3+ minute intro sequence sets up the conflict. It appears that there is a toy princess and a number of — as the game title indicates — clockwork knights competing for the fair, plastic lady's affection. The princess is snatched away somehow and it's up to one of the knights (probably the one they call Pepperouchou since his name is in the game's subtitle) to rescue her from renegade toys. At least, I assume that's what's going on; I haven't had the time or patience to sit through the whole thing yet. Fortunately, someone else has already posted the entire intro video on YouTube:
This game reminds me of the stories that Sega intended the Saturn to be the ultimate 2D gaming system but then some 3D capability was nailed on the side as an afterthought when Sega heard that Sony's impending PlayStation would place more emphasis on 3D. As far as side-scrolling action games go, Clockwork Knight is absolutely supreme. It has everything such a game really needs — a jump and an attack button — and lots of pleasing eye candy. This is an incredibly detailed game that rewards the sharp-eyed gamer. Observe the following gameplay screenshot: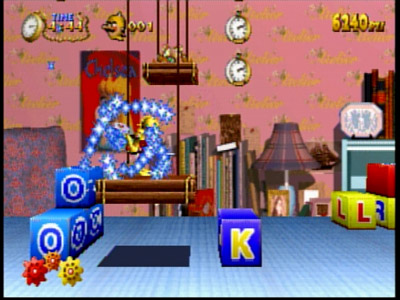 This is the first level, which takes place in Betsy's room. Some random notes I took down, which may help you get a feel for the game.
Not only does Betsy really like her doll Chelsea, she even has a poster of Chelsea in the background.
To be fair about the plagiarism aspect, at least the theme of this game seems to be toy vs. toy instead of toy vs. humans (I think that was the thrust of certain Toy Story movies).
Your power meter is represented by a network of gears. There are 3 gears to start with and perhaps more gears are possible later.
Your knight wields a key sword (reminds me of the Capcom/Disney crossover game Kingdom Hearts which would come years later).
You use your key sword to open toy boxes around the room which function as warps.
The animation is fantastic.
This side scroller has a quasi-3D effect as you run past objects.
Enemies jump at you from the background. Heavy objects such as dollhouses fall down at you from the background.
There is a time limit, but unlike many time limit games, you can grab clock powerups to extend your deadline.
No special attacks, apparently; only sword swipe, crouch and swipe, jump and swipe, and an implicit kick when you approach an enemy that is already stunned.
Betsy exhibits some extraordinary ingenuity with the network of pulleys and platforms she has set up in her room by which the knight is able to turn her room into a standard side-scrolling jumping action arena.
The screenshot above depicts invincibility mode, so the game has that powerup. Check.
You can push stacks of blocks around.
Crayons in pits fill in as deadly spikes.
All in all, not a bad game. I think I would like to play this game a little more to get some deeper screenshots for the database.
Bonus! Here's another musical number that I lifted from a Sega Saturn sampler CD. It depicts the toy characters of Clockwork Knight performing a spicy salsa number:

See Also:
At MobyGames: