So last night's action game was a bust. I looked through the list of un-entered NES games tonight and found one that can't miss– Disney's Chip & Dale Rescue Rangers 2. This was a sequel to another NES game of the same franchise which was, of course, based on a popular Disney syndicated cartoon. Capcom's Disney cartoon adaptations were always quite simple due to their target audience, yet amazingly fun and remarkably faithful to the source material. Just the way that Capcom's musicians managed to accurately reproduce the various Disney themes on the NES audio hardware was phenomenal, though curiosity-inspiring as it made us gamers wonder why the theme song could not be reproduced exactly (something I understand full well now).
Thankfully, this game did not disappoint, though I did get off to a fairly bumpy start which only served to illustrate just how much gaming skill I have lost over the years. In the previous game, the valorous vermin were responsible for putting the nemesis Fatcat away. But the intro in this game illustrates a daring prison break by blimp, a blimp that illuminates with "FATCAT" on the side when it has completed its mission.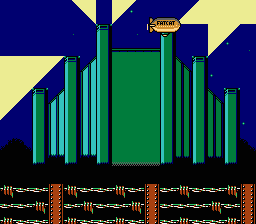 Next, Chip is watching television looking for leads on hot cases. The announcer obliges with the notification that there is a BOMB threat at a nearby restaurant.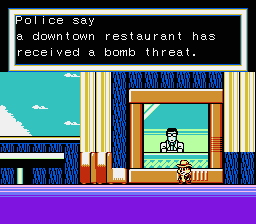 This is pretty heavy stuff for a kids' game. Chip assembles the crew and announces that this is precisely the kind of mission that the Rescue Rangers are chartered to handle. And darned if the rest of the crew doesn't go along with it.
So it's off to the restaurant for stage 1 and possible incineration. Despite my misgivings about the rodents punching above their proverbial weight, the game is predictably competent. Nintendo shows a release date of January, 1994 for this title, the beginning of the last year that official NES games were published, and Capcom is one of the best creators of NES games. So I had high expectations which I am glad to report were met. I liken this game (and the previous one) to Clockwork Knight with the way smaller-than-life characters are making their way in an oversized world. The first stage has you battling across the countertops of a diner, past food and sinks and ovens, dodging bees pouring honey and rats wielding silverware. Those rats are mean– the ones with forks will throw their utensils; the rats with spoons use them to bat your boxes back at you when you dare to pick up and throw the crates– fiendish feature for a NES game.
Eventually, I make it past the first boss and Gadget has recovered the bite-sized bomb: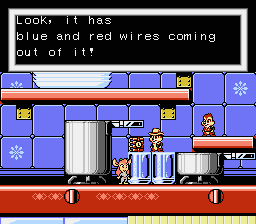 Panicked, she asks you whether she should cut the blue or the red wire. It doesn't matter which you pick– she was only kidding. So it's down into the sewer next, in hot pursuit of Fatcat, having learned through villainous exposition from the stage 1 boss that the bomb was a distraction, during which Fatcat stole some Egyptian artifact. I played until I got to the second level boss, whom I had no idea how to defeat: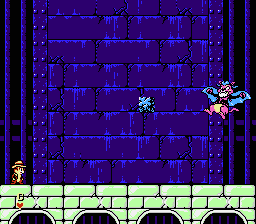 My best guess is that he is some sort of fart bat. He launches 2 clouds at you along predictable vectors and then swoops to the other side of the room. I just couldn't find any offensive option for taking care of him.