According to my interactive movie list, Burn: Cycle is the last known I-movie left in the experiment, for the PC. There could be other games whose I-movie-ness I am unaware of. Plus, I have at least one more I-movie for each the Sega CD, Sega Saturn, and Mac systems. I'm seeing that precious light at the end of this cold, dark, interactive tunnel.
Burn: Cycle didn't work for me. I'm not sure how I should feel about that, necessarily. When I popped in the first of the 2 game discs, it offered to let me play right away, off the CD-ROM: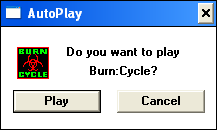 So far so good, and I appreciate the no-nonsense, no-install-hassle, cut-straight-to-the-chase attitude of this game. Pressing the Play button is rewarded by this dialog: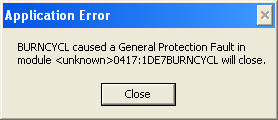 This is one of the worst kind of cryptic error messages you can possibly receive. Generally, it means that your machine is just too advanced to run this ancient software. The dialog reads: "Application Error: BURNCYCL caused a General Protection Fault in module 0417 1DE7BURNCYCL will close." The only reason I typed out that text was so that Google could pick it up and hapless googlers can find this site and learn that, although someone else shares their pain, there is still no hope.
Next, I tried my Windows 95 VMware image. It didn't GPF but it also didn't play due to this error: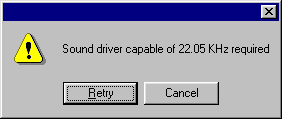 This must be a hardcore I-movie, without even subtitles. This is when I finally recognize that this Win95 install isn't set up to recognize VMware's virtual ENS1371 audio hardware. I have no idea how to set it up, either, or maybe it's more trouble than I care to bother with. That brings tonight's experiment to a screeching halt.
There is hope, however. This game is for Windows 3.1, Windows 95, and Mac. I am trying to get an emulated Mac environment running for another Mac-only I-movie in my pile. Failing that, there's always — groan — an actual Win3.1 or Win95 machine.