I can already tell that April is going to be a fairly busy month and that this blog will go neglected for days at a time. That said, I just got 4 more fresh games from another eBay seller yesterday. And one of the titles was just too good to delay playing.
A.k.a. Beach King Stunt Racer (probably the European title as the manual comes in 4 languages), Bikini Beach Stunt Racer is the story of a courageous beach enthusiast's quest to gather diamonds and perform dune buggy stunts in order to win bikini-clad feminine approval. The goal is to select one of three beach boys (stereotypical surfer jock, stereotypical food-obsessed party animal, or stereotypical drunken lush) and one of three tropical locales (St. Tropez, Bali, or Rio), and then drive your indestructible dune buggy around performing totally extreme stunts in order to earn the affection of the locale's mascot lady. You might think risking your life performing silly stunts would be enough, but oh my goodness, no! She wants diamonds, too. Along the course, find 7 diamonds that complete her ring.
Examine the in-game screenshot: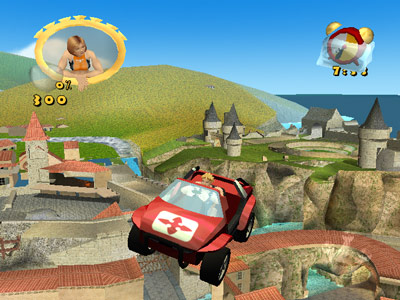 In the upper left hand corner, you will observe the Babe-O-meter. This is the babe (Ms. St. Tropez in this example) you are currently trying to impress. She sits inside her ring which will show the diamonds as they are collected.
That screenshot showcases a rather serious but altogether enjoyable bug in the game. Sometimes when I would start the course, the dune buggy would jump 100 meters in the air and show incredible views of the modeled landscape while allowing me to twist and turn and get incredible scores, thus throwing the babe into throes of wild ecstacy, even if I didn't survive after hitting the ground (the character doesn't die, he just has to restart the level and with the same bug manifesting). We'll chalk that up to a bug in the 3D engine. Here's a slightly less severe bug in the same engine, though still disorienting: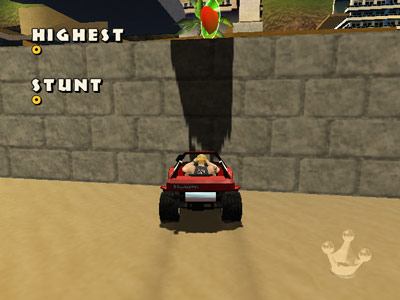 It seems that the light source in this case is the sand, hence the shadow on the wall.
At first, this game is just obnoxious. But with a little practice, it actually becomes somewhat enjoyable after I start understanding how some of the stunts are supposed to play. Maybe with this, I'll finally have the courage to try the stunt modes in Skateboard Park Tycoon. There is apparently a rich variety of outlandish stunts to perform in this game. Check out the intro video for the game which showcases all manner of physics-defying dune buggy stunts (my favorite is when the surfer dude surfs on some rocks that his ride is flying next to):
Everything in this game comes in groups of 3 with an unlockable fourth: 3 beach racers (with an unlockable fourth, an Elvis impersonator character, perhaps a cliche of a typical beach if I were ever to visit one), 3 locales (with an unlockable fourth, Daytona), and 3 bikini babes (with an unlockable fourth corresponding to Daytona).
And if you can't play the game, I'm sure the next best thing will be to view the gallery of eponymous bikini babes on offer. The CD-ROM has 16 ending videos (AVI/MS MPEG-4v2/PCM), depicting the outcome of completing the various courses with the available characters. Ms. St. Tropez here will be depicted as washing the winner's dune buggy while the man does something clumsy while gawking at her.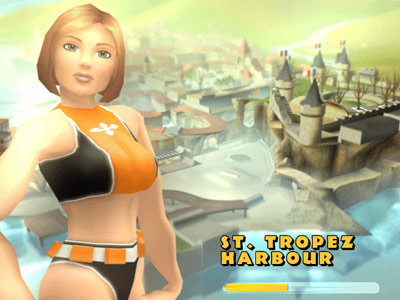 This is Ms. Bali, who will come running at the winner in romantic slow motion, her arms spread for the embrace, while the man always ruins the moment somehow and Ms. Bali is reduced to shaking her head in disbelief.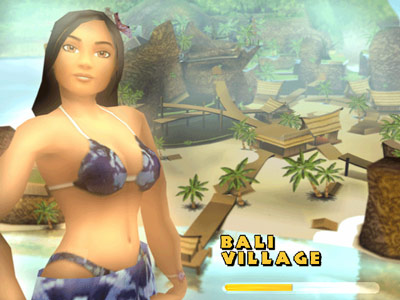 During her ending, Ms. Rio is depicted as dancing provocatively on a floating platform while the winner comes up to her dressed as that character's stereotypical passion (surf board, ice cream cone, or bottle). Invariably, the character falls flat in the oversized costume while Ms. Rio keeps on dancing.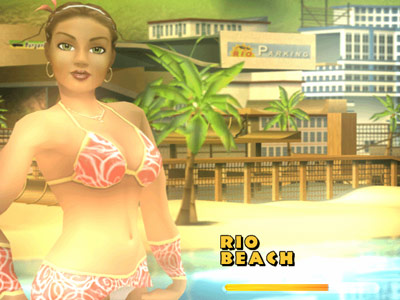 Those ending descriptions cover what happens for the first 3 unlocked characters. The same sequences ensue for the unlockable Elvis impersonator but always end up with him performing some dance that makes the woman faint. It's all very abstract. Either that, or I simply don't get it.
At MobyGames:
See Also: