Tonight's game presents a bold and daring vision of a dystopian future with flying cars buzzing around a bustling megalopolis, where law and order hangs by a thread, and where you are a special breed of quasi-vigilante charged with using deadly force to bring down what is tenuously identified as the criminal element (hard to say since everyone is corrupt in this future). Presumably, the 'B' in BHunter stands for "bounty", though that's never actually specified in the game. For that matter, the title 'BHunter' never appears in the actual game, not even on the main menu. It could be that 'bounty' does not translate well across Castilian Spanish, French, Dutch, Portuguese, and U.S. English, which are the 5 languages I have to choose from on installation.
Cutting straight to the action, BHunter strikes me as being a Descent clone. You float around in your little ship, rotate about your axes with the cursor keys or mouse, and go forward/backward with A/Z. I know there must be lots of other controls but darned if I can find the manual at the moment.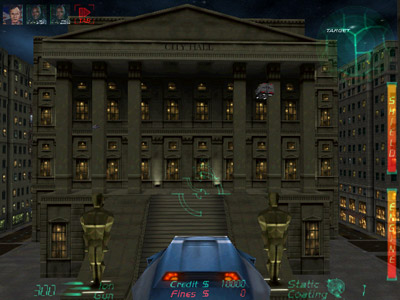 On the tutorial mission (the only one you have access to at the start) the mayor welcomes you to town and assigns an officer to tutor you on the first mission. The officer instructs you to use your radar to track down your first target. Should be an easy mission and sure enough, when the car is in view, it is highlighted as the "TARGET", so there's no confusion. It didn't really seem fair, though. Seems like his only crime was being a leisurely driver. Well, apparently, I serve as neither judge nor jury in this game; only execution duties, thanks, and I earn 5000 credits for my trouble.
I don't get much farther in the game, however. I'm apprehensive about whether I am getting the full experience without the benefit of the manual. More importantly, though, the game has a lot of trouble running on my system. Visually, the graphics are quite detailed and fluid, but only with 3D hardware acceleration. I disabled acceleration in an effort to make the game run better. The graphics look atrocious without hardware help and my program problems didn't go away.
I liked what I heard, however. The developers did a great job with the 3D sound effects when other cars whiz past. The game also features an appropriate techno soundtrack which turns out to be a continuous 22-minute red book CD audio track. A track that keeps playing even after the game crashes (fix: eject the CD).
It didn't take long before I started pushing the limits of this immersive 3D world. First, I wanted to see how high I could fly. Answer: Not very. There's a magic force field that hovers at right about the height that all of the buildings are constructed. That's some strict building code enforcement! Here's a curious quirk related to the magic ceiling force field: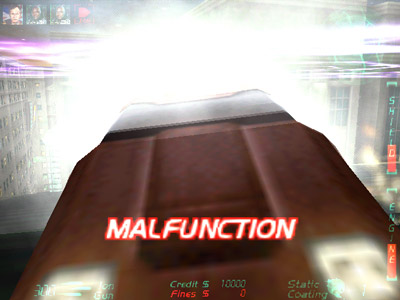 Check out the first screenshot depicting city hall. Notice the slanted roof. I tried going over that portion of the building only to bounce furiously between the roof and force field which resulted in the above situation. I was stuck, but I don't think I was actually destroyed. Thankfully, the game didn't crash at that juncture.