And so it came to pass last night — no joke:

Look at that, it took me almost exactly 3 years to reach 10,000 points. As of yesterday, all I needed was 7.5 screenshots to put me over the limit. I submitted 8 new screenshots for Wrath of the Demon. Quite ironically, the last one of the set — the one that technically put me over the limit — was a "game over" screen: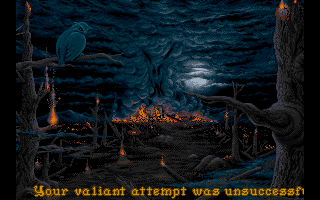 I'd like to thank all my friends at MobyGames who never gave up on me, who kept encouraging me no matter how bad the game quality was or how ridiculous the interactive movies got. I guess I'm proof that dreams can come true and hard work really pays off.
Hey, quit laughing.