Let's keep this Barbie kick going with another game based on the alpha doll appropriating another classic fairy tale (a somewhat profound proposition to be sure, since Barbie is, herself, the modern embodiment of a fairy tale). Fortunately, Barbie as Rapunzel is already in the database, so this is just a screenshot recon effort (and credits entry, and I see that the description could use a touch-up).
In the story of Rapunzel — or at least in Barbie's version of it — Rapunzel and her Prince Stefan are going to throw a masquerade ball. An evil witch named Gothel grows indignant that she did not get an invite. So she casts a spell on the castle, throwing it into immediate disrepair and the prince is turned to stone while 6 stones from his crown are scattered about the castle grounds. Gothel seems to have exacted the perfect revenge in response to the snubbing.
But there's one doll she didn't count on…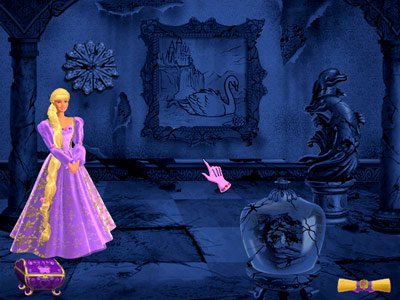 Barbie/Rapunzel's task in this game is to move about 6 rooms in the castle, clean them up, find 1 stone in each, and then rescue the prince. Simple, concrete goals, and this definitely qualifies as a game. Above is one of the rooms that Barbie must restore. Each room has a number of areas which can be magically renovated by using a magic wand or paintbrush from the magic toolchest. But each room also has a creativity exercise. For the hallway shown above, the creativity exercise is the painting: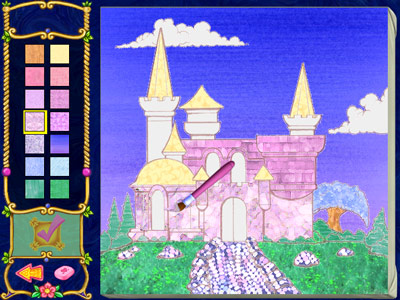 You get to select a painting design, color it as you see fit, and select a frame. Printing afterwards is optional. This is an interesting activity, algorithmically, because, rather than a freeform brush or area fill method, the paint brush only works on a particular layer as the program makes you work across sections of the painting.
After the room has been completely revitalized, you get to use a magical magnifying glass to find one of the stones in the room.
Then it's on to the other rooms to repeat the same process, only with designing a floor mosaic, a carpet, a mask for the ball, matching thrones for the throne room, and customizing (pimping?) flowers for the flower garden. It became a bit rote after awhile and I developed a pattern for just getting through the activity (the game wouldn't let me pass until all the areas were colored; I couldn't even leave the clouds white). I was reminded of Mike Judge's restaurant manager character in Office Space; I could envision him asking, "What do you think about someone who only does the bare minimum?"
After all the stones are collected, it's time to hit the hedge maze– real 3rd-person 3D action! At various junctures, that evil witch has thrown up strange obstacles that can easily be overcome by items in the magical toolbox: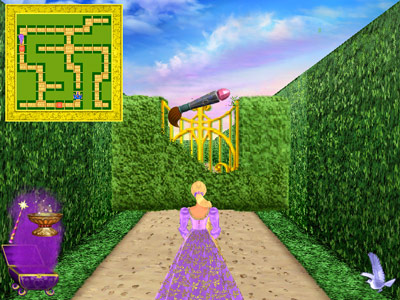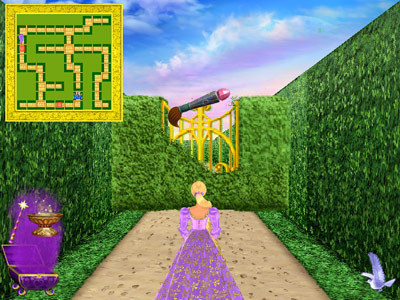 And, long story short, the prince is rescued and the masquerade ball proceeds as planned. And the final insult is that Gothel's evil spell was completely undone in less than a half hour.
See Also:
At MobyGames: