I became aware of tonight's game — Babes In Toyland — somewhat by chance. On a lark, I started Googling some of the credits that I entered for Little Caesar's Fractions Pizza to see if, in particular, any of the voice actors had done anything else. This is how I found the website of one aspiring young actress named Ashley Fox Linton who lists this game as well as the pizza game on her video game credits (humorously, her website claims that Fractions Pizza was published for Domino's). This is just one way I find out about more obscure games to search for on eBay. According to my records, I got this game in a load that also included the wacky-sexy daredevil romp, Bikini Beach Stunt Racer.
Babes In Toyland turns out to be based on a 1997 animated film. The movie and the game both seriously violate accepted Santa Claus canon by asserting a storyline in which Santa Claus actually outsources the production of Christmas toys to a location known as Toyland. Toyland has just completed an order for the jolly old elf when the villain Barnaby swipes the toys and scatters them around Toyland. It's up to our young hero and heroine to recover the toys before St. Nick arrives for pickup, lest they be placed on the permanent "naughty" list.
It's another Macromedia Director-based, kids' game. It also has the most phenomenally simple installer of any Windows game I have seen yet. The setup.exe game just places a shortcut on your hard drive that can launch the game from the CD-ROM. It's done in a flash.
Since it's a kids' game, I know darn well what that entails: minigames! 9 of them in this case. One deals with the famed Humpty Dumpty. The villain's cat startles the egg-man who falls from his famous wall and shatters.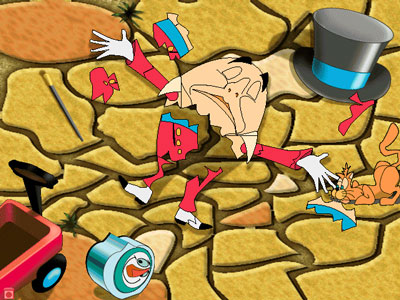 Despite the fact that the traditional Humpty mythos clearly explains the difficulty faced by all the king's horses as well as the king's men in attempting to reassemble this monstrosity, the game still sees fit to task 2 children with that very endeavor.
One of the toys must be recovered from the shoe house, the one where the old lady lives inside with many children. You must help her locate all of them in what shapes up to be a pixel hunting game. Another game which involves descending pairs of red eyes in a haunted forest is more or less a glorified shoot-em-up game using a flashlight to expose the goblins. Then there is this well from which you have to save ducks, but not fish, using the bucket: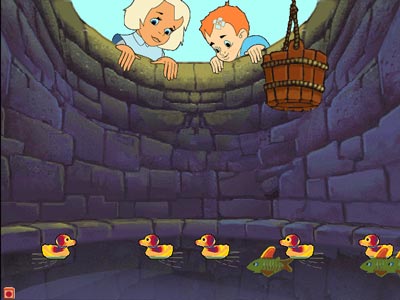 I have never seen such dog-looking ducks before. The game was starting to wear thin when I earned this unexpected, but not wholly unwelcome, reprieve: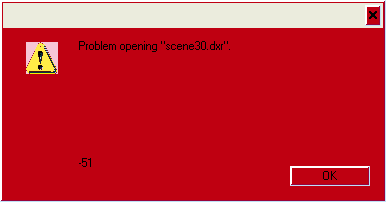 But I still like collecting full screenshot sets for these types of simple, colorful games, so it was back to play for me. It doesn't take long to clear all 9 puzzles. When Santa arrives, he is pleased with Toyland's commitment to quality and no doubt ecstatic about the money he is saving by not having to rely on domestic elf labor, or deal with the elf labor unions. Upon successful completion, I earn this certificate: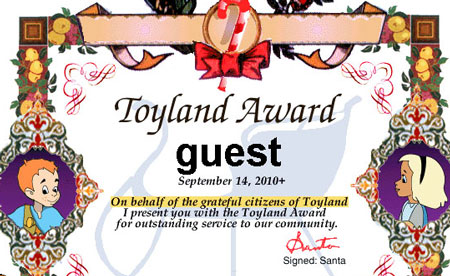 I am not quite sure what to make of this, particularly the date. The game probably came out in 1997, the same year as the film. I checked my system clock and it correctly reports that today is a day in the year 2007. I wonder if the game saw the date greater than 1999 and filled in 2010+ automatically.