Astro Assembler comes from a brand new batch of obscure software recently procured from an eBay store. It's another lost gem courtesy of PC Treasures, Inc., the publisher responsible for all of those Super Target dollar specials that I have reviewed thus far. It finally occurred to me to investigate their website this evening and I realized that there must be well over 100 games in their OEM catalog that I don't have and that probably aren't in MobyGames yet.
One reason that a number of these games are not yet in the database is probably that a number of them were licensed from non-American development houses (whereas the vast majority of MobyGames records come from American games). Based on some of the names involved with this game, I am guessing it comes from Portugal even though the main title looks somewhat Japanese at first glance: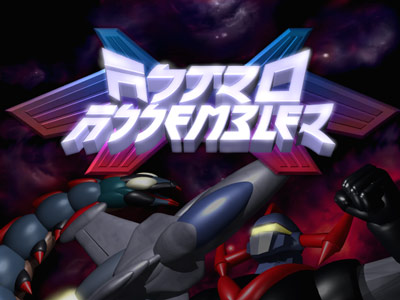 The box copy sells the title as a relentless action game. Let's see if it lives up to the hype. What kind of game are we dealing with here? It shapes up to be a vertically scrolling shooter, what I liked to call fly-through, shoot-em-ups when I was growing up. Gradius and R-Type seemed to be the archetypes and were always among my favorite brainless action games though they were frustrating beyond belief, principally due to the fact that one hit did you in. Astro Assembler is no exception to the rule.
AA is gorgeous, to be sure, though a little sparse on music despite the promise of 15 CD audio tracks in the game. The graphics shine throughout. 3D rendered spaceship enemy sprites swoop from different planes onto yours for the attack. The scrolling starfield and tumbling background asteroids are beautiful, and the explosions are crisp.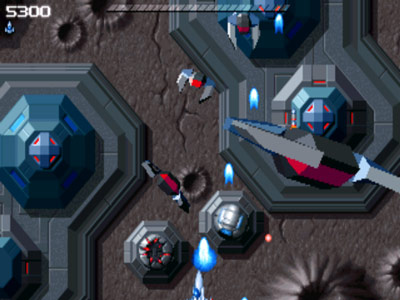 It takes me awhile to settle on a satisfactory control scheme. There are several default keyboard layouts from which to choose. I can't get used to any of them. Finally, I remember to plug my gamepad into my new computer and I have that option available to me. Unfortunately, it doesn't work! When I configure for joystick, I can navigate the game menus just fine but the in-game ship won't respond to me. Fortunately, I found the option to customize a keyboard control scheme and I come up with a halfway decent one.
One of the first features I noticed was that holding the fire button results in a rapid, continuous stream of fire. This seems like the desirable approach. However, this type of offensive power only works against flying opponents. There are all types of things to hit on the ground (various solid objects passing beneath you in space). These include enemies and powerups that need to be hit before collected. Nailing these targets requires a missile and missiles aren't fired as quickly as the main cannon, though you can speed up the rate of fire by manually firing.
I should mention that the "Assembler" part of the title comes from the feature that allows you to assemble various upgrades to your craft if you gather enough powerups. I would show you this if I could possibly make it far enough into the game, even on the easiest skill level.
So committed are the authors to maintaining an authentic arcade feel that the high score initial entry mechanism forces you to cycle through letters using the left and right controls and select initials with the fire button. I only mention it because it's sort of a pet peeve when PC games don't take advantage of the keyboard in these situations.
At MobyGames:
See Also: