Taco Bell is running another 4-CD-ROM promotion– the Comics Constructor series. Unfortunately, these discs are not actually games. I know; I checked. I picked up all 4 tonight (hey, they're only a dollar each). I was holding out hope that these would have some kind of gaming elements, but alas, it's just a comic creator. I gave it a quick whirl on the first disc: Neptune Quest: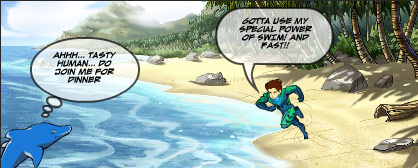 No MobyGames immortality for these titles. However, for Google posterity, the other 3 "issues" are Amazon Raiders, Hero Adventures, Super Snoopers. Actually, I'm thinking that this could provide an interesting framework for those among us who have more talent with the keyboard and text editor instead of the mouse and drawing program. I'll be keeping these discs around.
This Taco Bell promotion was put together by the fine folks at Maxx Marketing, the masterminds behind the Tek Kids series. The promotion runs through June, in case you're interested.