I can already tell this business of collecting screenshots from console games is going to hurt. This is because I have to experience the game at least twice. The process is to play the game for whatever length of time, capturing footage on my computer. Then, I get to watch the game again to capture the actual screenshots. And in some cases, I have already been exposed to the wretchedness months before, as in my inaugural PlayStation 2 gaming session.
So I delved into Evergrace once more. For some reason, I really do want to like this game. But the screeching opening music insists on scratching at my delicate ears. This time, the story didn't grate on me like it did last time. I admit, it was starting to draw me in, just a little, at least until I saw the name of the land where the adventure begins for one of our protagonists: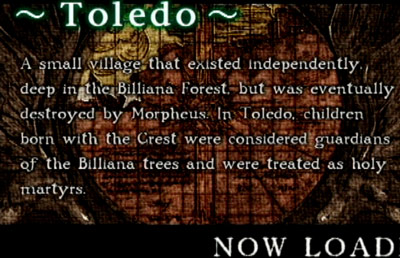 I was willing to give the game the benefit of the doubt in the hope that perhaps Toledo has some mythical, mystical meaning. Wikipedia says no dice, that the Ohio town is the most prominent use.
The last time I played Evergrace, I could not figure out how to arm my hero– all I could do was punch for offense which seemed to only irritate monsters. The first time I replayed, I still couldn't find an offensive tool. It wasn't until I reviewed the captured game footage that I noticed that the game was trying to drop subtle hints about weapon possibilities during the opening exposition with a character named Krisalis.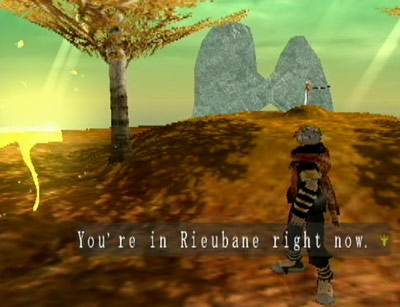 Wait… in the background there: see it? Could it be? A sword!
A notable facet of this game is that it features perhaps the creepiest old man in the history of video gaming: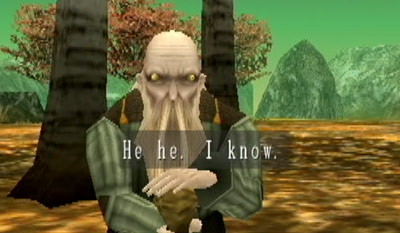 His name is Morpheus and he bobs his head and rubs the top of his staff in rhythm with his excited speech.
Now that I actually figured out how to effectively fight enemies in this game, I actually feel some motivation to play it. Unfortunately, such motivation is dashed by the delayed response when I play through my video capture bridge. Common problem, but I must keep it in mind when evaluating console game quality.
See also: