I raided the thrift shop today and found some old games. I mean, really old. I'm talking about 5.25″ floppy disc old. They are all complete packages too. However, they honestly can't be considered games– all 5 of these packages are expansion packs. And one of them is apparently an expansion pack to other expansion packs of an original game– think about that for awhile.
This first group caught my eye because they all carried the logo of Three-Sixty Pacific, Inc.. I recognized them because I bought their game Theater of War ages ago. I really don't remember playing it much. I think I mostly bought it because the cover art claimed that it was the "World's first Super VGA game."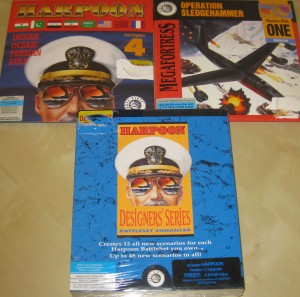 Click for larger image
Harpoon BattleSet 4: Indian Ocean/Persian Gulf: Expansion for the game Harpoon, in an odd packaging format that looks like a small vinyl album
Megafortress Mission Disk 1: Operation Sledgehammer: Expansion for the game Megafortress, in the same small album form factor
Harpoon Designers' Series: Battleset Enhancer: This is the one that appears to be an expansion for other Harpoon expansion packs– "Creates 12 all new scenarios for each Harpoon BattleSet you own. Up to 48 new scenarios in all!" From this, I think we can definitively conclude that there were 4 BattleSet expansions.
Here are 2 expansion packs for the LucasArts game Secret Weapons of the Luftwaffe.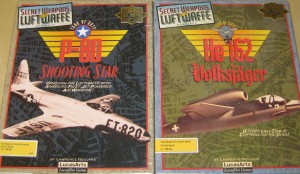 Click for larger image
Here's a grab-bag of other items from the same raid: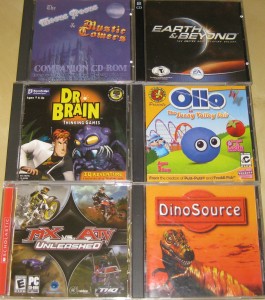 Click for larger image
And a few more recent acquisitions: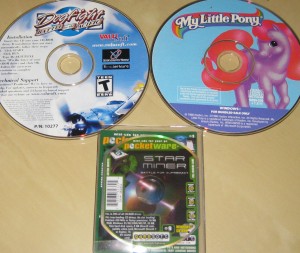 Click for larger image
Dogfight: Battle for the Pacific
My Little Pony: Oops, I already had a copy of this; I guess one can never have too many
Star Miner: Another of those novel, small, Pocketware CD-ROMs; this looks like a re-badging of a dressed-up Asteroids clone