I came across someone who wanted to get rid of a bunch of old Windows games, someone who was apparently a fan of real time strategy games. Most of the games are already in the database, but I acquired them anyway because they were basically free and many of the specific covers were not yet in the database.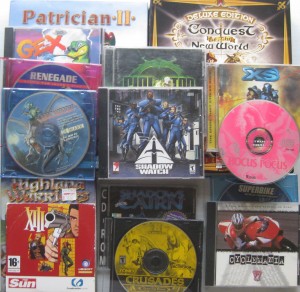 Click for larger image
Random observation: Check out the back of Lords of Midnight — one of the screenshots has a caption that purports that the game is comprised of an immense world that is the equivalent of 8 CD-ROMs. I'm hoping that the single CD-ROM that I have corresponds to this box copy.
Anyway, out of this lot, Crusades: Quest for Power is the only title that is definitively absent from the database. There is also Superbike World Championship– this is the kind of game that's difficult to tell whether it's in the database already. As of this writing, there is a whole category of Superbike World Championship titles but none that just name the basic title, which is all the CD-ROM states. The disc lists copyright dates of 1999,2000, which is a bit earlier than the ones of record, so this probably warrants a new entry.
The other games are: