I once had a game shipped to me in its original box. The seller actually managed to turn the sizable box inside out and tape the thing up, so it did preserve the cover art somewhat. It's a good thing I'm not the kind of game collector who necessarily cares about the condition of the cover art or I would have righteously freaked out. Here's a picture I took at the time to share with some other collectors: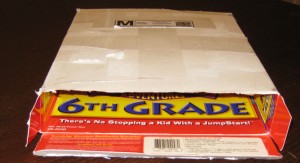 Click for larger image
I bring this up because I thought I had a similar situation today: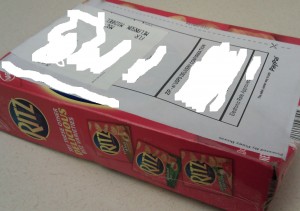 Click for larger image
This was disappointing in its own way. I had skipped lunch and thought that I had a delivery of delicious crackers straight to my desk.
Alas, inside was just a collection of 8 girl-oriented games in a package (which arrived in terrific shape) named 8 Great Games for Girls, published by Viva Media: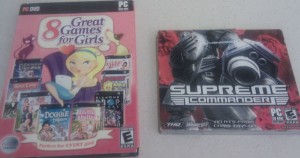 Click for larger image
A big, tough, manly game arrived separately as well– Supreme Commander. Of course, the latter is already well documented in the database, so there's nothing I can add (except some cover art scans). That means I get to play slightly less masculine games once more (whenever I get around to video game historianism again), since only 2 of the 8 girls games are presently documented in MobyGames:
Diamond Drop Deluxe
Doggy Daycare
The Enchanted Unicorn
Happy Tails Animal Shelter
Horse Camp
My Dream Job: Babysitter