Look what I found in the trash– seriously, someone was just throwing it away: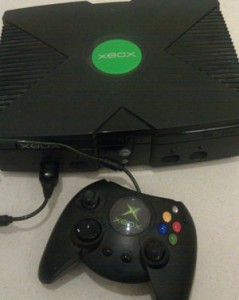 A perfectly good, original Microsoft Xbox, complete with an original massive controller. At least, I assumed that it was working. It didn't have a power cable or A/V connector. But a quick browse at Amazon and US$10 remedied that problem and I was able to certify that it works fine.
I've never owned or really even played any Xbox stuff (1st gen or 360). But I'm free to accumulate games now (as long as they're free or sufficiently cheap, as per my policy). The only Xbox disc I had handy for testing was a demo disc that came with an Xbox magazine I bought many years ago, when I was just studying random optical media for fun.
The stories of the gargantuan original Xbox controller certainly were no exaggeration. I'm ordering up one of the smaller ones ASAP. The Xbox console itself is quite the beast as well– I fear I'll hurt my back just carting it about.