Finally! This post catches me up on all of last year's procurements that aren't in the database yet. Let's get started…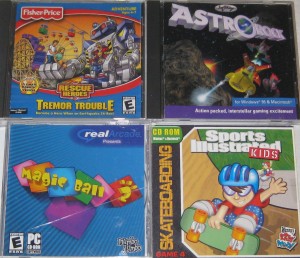 Click for larger image
Fisher-Price Rescue Heroes: Tremor Trouble (not sure, but I may very well have the entire series of alliteratively titled Rescue Heroes games now)
AstroRock (SoftKey release)
Magic Ball 2 (casual game with a Mumbo Jumbo/RealArcade pedigree)
Sports Illustrated Kids CD-ROM game 4: Skateboarding (yet another Wendy's Kids' Meal promotional item)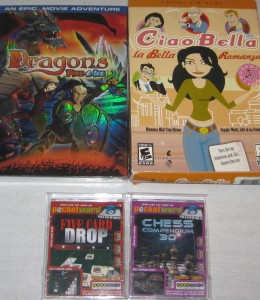 Click for larger image
Dragons: Fire & Ice (this is a DVD movie; see below for more detail)
Ciao Bella: La Bella Romanza (billed as a casual sim game)
Five Card Drop
Chess Compendium 3D
Those latter 2 items are Pocketware games that come on business card form factor CD-ROMs. In my experience, they often contain games that are already in the database but with different names.
About that first item, Dragons: Fire & Ice is a DVD I found in a bargain bin. I happened to spot this on the back: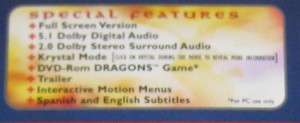 Click for larger image
"DVD-Rom DRAGONS Game". Might be worth checking out.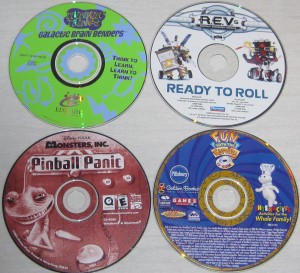 Click for larger image
Thinkin' Things: Galactic Brain Benders
R.E.V.s (Radically Engineered Vehicles): Ready to Roll
Monsters, Inc: Pinball Panic
Pillsbury Fun With The Family CD-ROM