Admit it: A huge reason you follow this blog is because you want to see more of the girlie games. You'll be glad to hear that I have acquired an impressive number of these in the last year. It should come as little surprised that almost none of these are in the MobyGames database yet.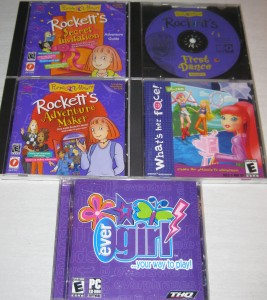 Click for larger image
Rockett's Secret Invitation
Rockett's First Dance
Rockett's Adventure Maker
What's Her Face!
Evergirl …Your Way To Play!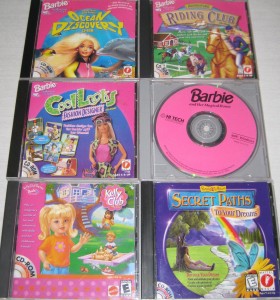 Click for larger image
Adventures With Barbie: Ocean Discovery
Barbie Adventure: Riding Club
Barbie Cool Looks Fashion Designer
Barbie and Her Magical House
Kelly Club (also part of the Barbie franchise)
Secret Paths To Your Drives (from Purple Moon, the Rockett people)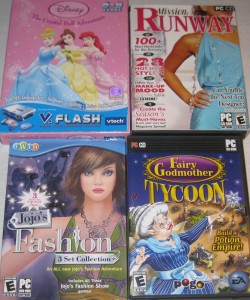 Click for larger image
Disney Princesses: The Crystal Ball Adventure (for the VTech V.Flash system; I still have yet to open mine)
Mission: Runway
Jojo's Fashion 3-Set Collection; includes Jojo's Fashion Show, Jojo's Fashion Show 2, and Jojo's Fashion Show World Tour
Fairy Godmother Tycoon (also mentioned in my Tycoon Game Tycoon acquisition entry)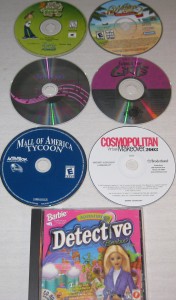 Click for larger image
Ellie's Enchanted Garden
Wedding Dash 2
Serafina's Adventure (oops, this is actually an audio CD and not a game)
Galaxy of Games for Girls
Mall of America Tycoon (also mentioned in my Tycoon Game Tycoon acquisition entry)
Cosmopolitan Virtual Makeover 2003