I'm not usually a big collector of the Limited Special Collector's Ultimate Edition, but this item caught my eye: "Lionel Trains Presents: Trans-Con! Centennial Edition." It helps that neither MobyGames nor much of the internet at large seem to know much about it (which always makes me want to snatch it up for preservation purposes).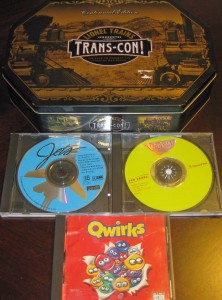 Click for larger image
Other items in this batch:
Jets, copyright 1994 by Medio Multimedia; impossibly generic in its naming (while the company name is construed by search engines as an obvious typo), so it's hard to find any other data on the internet about the title. It features the MPC2 and "CD Laser Station" badges.
Tuneland starring Howie Mandel, by 7th Level, Inc., a company I have encountered a few times on this blog; this features the Packard Bell logo, so perhaps it was a pack-in.
Qwirks— this is already in the database, but my curiosity was piqued because it was designed by famed Tetris developer Alexey Pajitnov (plus, some cover scans are missing from the database).
So, about this Trans-Con special edition package– the game is apparently an educational title, probably primarily marketed towards classrooms. Here's an old review from an educational software review site. Here are all of the items I procured in the used version of the limited edition package: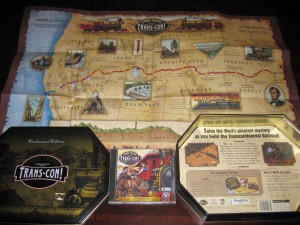 Click for larger image
The game, a handsome map, and an awkward tin. It's entirely possible not all of the items included in the original package made it to the thrift shop where I procured this.
Some other recently procured items: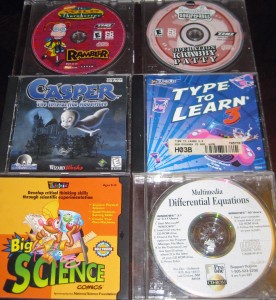 Click for larger image