As the years wear on, it's getting harder and harder to find games that A) are not in my collection and B) are not yet in the MobyGames database. Yet it's not completely impossible.
I recently learned that MobyGames added support some time ago for VTech V.Flash games, yet has no entries as of this writing. This educational console's entire library is 9 games large. I procured a brand new V.Flash console many years ago and it remains in the box. This game is the 4th V.Flash game I have thus far acquired– Bratz Fashion Pixiez: The Secret Necklace: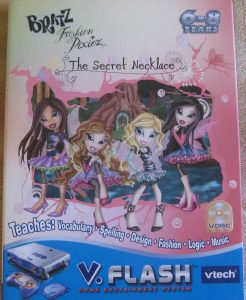 Click for larger image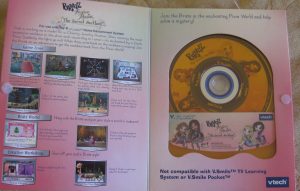 Click for larger image
I have 5 more games in the entire library to collect. I have resolved to get them all into the database someday.
I used to go scavenging on eBay for video game lots. You don't have to acquire very many lots before you hit a point of diminishing returns, when you already own a significant number of items in the lot. Instead, I have recently found a few eBay stores that have lots of less expensive old CD-ROM games and which offer reasonable shipping rates when grouping multiple items. This is almost as good as those old lots I used to snatch up.
Here are some recent acquisitions that aren't in the database yet: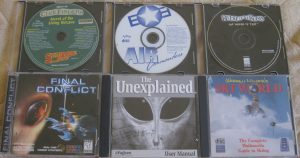 Click for larger image
It wasn't until I started composing this post that I realized how well 2 of these covers (Final Conflict and The Unexplained) fit when placed next to each other.
Cluefinders: Secret of the Living Volcano: Many items from this educational franchise are already in the database but this one has slipped through.
Air Commanders: A 1995 title published by Softkey. Aerospace Publishing Ltd. is also mentioned, as is QSound (sound tech company).
Riddle of the Runes: The Worlds of TSR: Copyright 1995, mentions Front Street Publishing and U.S. Gold. The acronym 'TSR' has a (TM) symbol, so I'm guessing it has something to do with the company that created Dungeons & Dragons.
Final Conflict: There are numerous games in the database that already include the words "Final Conflict" in their titles. But this 1997 game from Rhode Island (R.I.) Soft Systems (tagline: "Software Engineered to be the Best") and Sound Source Interactive has somehow slipped through the cracks. I can't quite tell what kind of game it is, but I think it's either RTS or 4X.
The Unexplained: Not a game, but rather an "Interactive Documentary" about, well, the unexplained. 1996 CD-ROM from FlagTower.
Warren Miller's Ski World: Also not a game, but rather The Complete Multimedia Guide to Skiing. Windows and Mac CD-ROM published by MultiCom Publishing.
And finally, a few acquisitions that are already represented in the database:
Click for larger image