My Acquisition Log entries have slowed considerably. A lot of my usual acquisition sources seemed to dry up in the last year or so, including my favorite local thrift shop. However, I visited said thrift shop recently and found a treasure trove of games, a bounty the likes of which I had not encountered in quite some time.
In all my years of collecting games, this trip was unusual in that it was the first time I did so with an internet-connected mobile device by my side. It may surprise you to learn that I'm not much of a gadget freak and so I haven't placed much value on smartphones yet. But I acquired a hand-me-down iPhone a few months ago. So this was the first time I was actually able to check potential purchases to see if they were already in the MobyGames database. This is a good thing or I might have walked about with 2-3 times as many games. The following games largely represent items which have little to no representation in the database as of yet.
Next TODO item is to make sure that my master games spreadsheet is easily accessible via my iPhone so that I don't end up with any more copies of Barbie Sparkling Ice Show. Oops.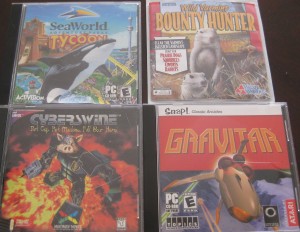 Click for larger image
This lot includes:
SeaWorld Adventure Parks Tycoon, from Activition Value Publishing
Wild Varmint Bounty Hunter, published by ValueWorks; hunt for prairie dogs, squirrels, coyotes, and rabbits (didn't realize that a coyote is classified as a 'varmint')
Cyberswine by Brilliant Digital Entertainment– this is already in the database, but these Multipath Movies fascinate me on a technical level; one such title — Gravity Angels Part 1: Alien Discovery — was one of the first games I covered on this blog
Gravitar– companies mentioned on the jewel case include Topics Entertainment, Digital Eclipse, and none other than Atari; it seems that there is an old Atari game named Gravitar and I'm curious to see if this is a straight port or an upgraded remake of the original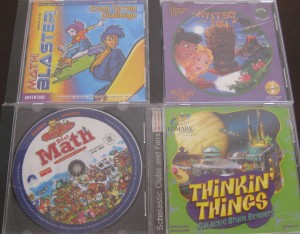 Click for larger image
Here's a grouping of educational (possibly) titles:
Math Blaster: Cross Terrain Adventure
Hawaii High: The Mystery of the Tiki– the colon-ated title makes it sound as though this is one of many games; published by Sanctuary Woods (I still have a soft spot for their Radio Active title)
Richard Scarry's Busytown: Best Math Program Ever, published by Simon and Schuster Interactive– a lofty title if I've ever read one
Thinkin' Things: Galactic Brain Benders, by Edmark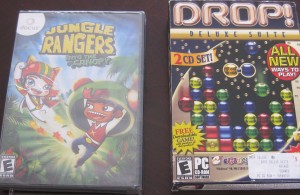 Click for larger image
A few more, in bigger packaging:
Jungle Rangers: Into the Canopy, by iFocus
Drop! Deluxe Suite, from eGames; this boasts of coming as a 2-CD set, though it doesn't look like it would be a very complex or graphically intensive game, requiring lots of assets. Then again, it's eGames and you can usually count on them to package various bits of software that are, umm… at best, tangentially related to the game in question. Some games in the series are already on record, but not this collection or remix or whatever: Drop! and Drop! 2