MobyGames saw some rough times last year when, after years of stagnation, its new corporate master launched a much-maligned design overhaul. Then, at the very end of the year, a new benefactor swept in, took control, returned the design to its former glory, and has been carefully evolving the design and working to grow the community.
Through it all, I have continued to collect games, mostly due to force of habit, I suppose. But now I feel a bit more eager to get back to collecting and entering data (even if it's just for cover art at this point).
Here are my latest acquisitions that are not yet represented in the database. Here's a random grab bag: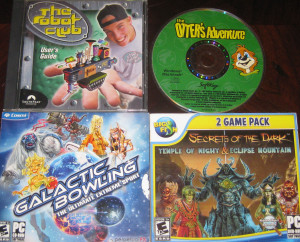 Click for larger image
The Robot Club by Southpeak Interactive
The Otter's Adventure (Softkey release), developed by Digital Impact in 1995
Galactic Bowling: The Ultimate Extreme Sport; PerpetualFX/Cosmi
Secrets of the Dark 2 Game Pack: Temple of Night & Eclipse Mountain, published by Big Fish
Here's a smattering of educational games: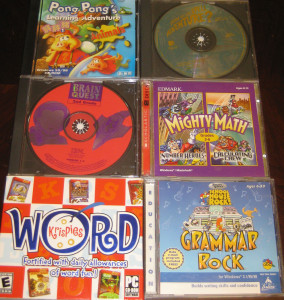 Click for larger image
Pong Pong's Learning Adventure: Animals, published by Hong Kong Datasun Group– this seems to be half in Chinese; I'm not looking forward to figuring out the original release region for this title
How Do You Spell Adventure? by Sanctuary Woods, whom I recognize thanks to their Radio Active title
Brain Quest: 2nd Grade, published by IBM in 1999; several entries in the Brain Quest series are already in the database, but not 2nd grade
Mighty Math 2-pack: Number Heroes and Calculating Crew, published by Edmark
Word Krispies (looks like this is already in the database), published by Liquid Dragon Studios and published by Encore
School House Rock: Grammar Rock (Smart Saver release)– "Kids email program included free!"
Here's a stash of biblical-themed games, most of which were published by Left Behind Games: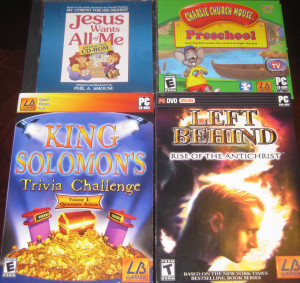 Click for larger image
Jesus Wants All of Me
Charlie Church Mouse: Preschool
King Solomon's Trivia Challenge: Volume I: Quizmaster Edition
Left Behind 3: Rise of the Antichrist
The next group is commercial licensees: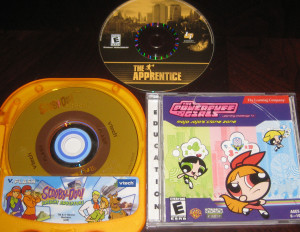 Click for larger image
The Apprentice, based on the Donald Trump reality show; published by Legacy Interactive, whom I recognize thanks to their Law & Order adaptations, which makes me wonder if this is also Java-based
Scooby-Doo! Ancient Adventures– this is a VTech V.Flash console game. I have one of these V.Flash systems, still new in the box. One day, I'll need to open it and play the 3 V.Flash games that I have acquired and perhaps lobby for the system's inclusion into MobyGames, since they're adding a lot more systems these days.
The Powerpuff Girls Learning Challenge #1: Mojo Jojo's Clone Zone, from The Learning Company; I guess I should appreciate that some of these game titles are so ridiculously long as it makes it easier to determine that the game is not in the database.
Some software items that come in big, classic boxes: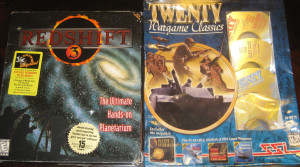 Click for larger image
The first is Redshift 3. I'm not sure if this technically qualifies as a game. It might just be an educational space exploration software title. I wonder if it holds up to web-based space education tools.
The second box is Twenty Wargame Classics from Strategic Simulations, Inc. (SSI).