I'm such a mess. Just last night, I finally got caught up on all my outstanding cover scanning work. So how did I celebrate today? By hitting up my favorite thrift shop and grabbing yet more old, unloved games, starting with yet more Barbie titles. Some of these seem a bit of a stretch to define as games. However, at least one of them already lives in the MobyGames database.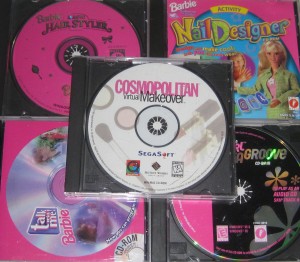 Click for larger image
Barbie Magic Hair Styler — this one is mercifully already present in the database
Barbie Nail Designer
Barbie: Talk With Me!
Barbie Generation Girl Gotta Groove
Cosmopolitan Virtual Makeover — copyright 1997 and published by SegaSoft; when I acquired and cataloged Virtual Makeover 2003, I figured that disc's title implied that there was another in the series; I'm just surprised that it was so many years earlier (then again, I suppose there might be more of them out there)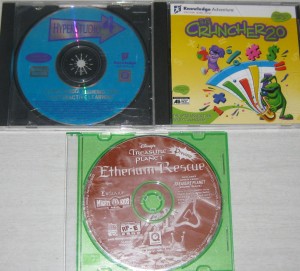 Click for larger image
Demo version (apparently included with a McDonald's Happy Meal) of Disney's Treasure Planet: Etherium Rescue
The Cruncher 2.0 — This is an interesting specimen which claims to be a teaching spreadsheet for use in classrooms (grades 5 and up), and it's from Knowledge Adventure, an outfit that puts out at least competent educational titles; maybe I can actually learn a thing or 2 about spreadsheets
Hyperstudio 4 — I still like collecting odd multimedia creation titles; perhaps one day I will review them on my multimedia-oriented blog
This complete box was also available for cheap at the shop– Deep Raider: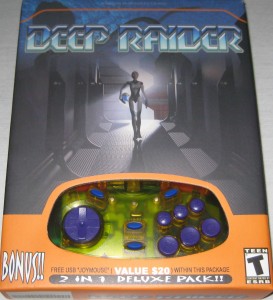 Click for larger image
The box appeared to be re-shrinked. But maybe it was just poorly shrink-wrapped in the first place because the jewel case inside still looked fresh and all the other materials were pristine, including a USB "joymouse":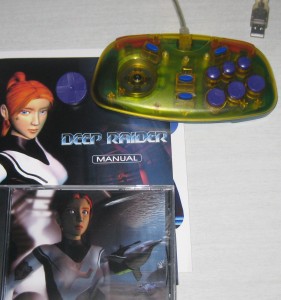 Click for larger image
Despite never having been used, the d-pad still fell off when I opened the box, as pictured. Still, interesting marketing gimmick. This game has a release date of 2000, so this was very early in USB's consumer lifetime. This is also the first PC game controller that I have seen which is modeled after the Sega Saturn's controller.
I'm also a bit surprised that the publishers didn't get in trouble thanks to main character's striking resemblance to a Resident Evil 2-era Claire Redfield.