Here's a new score that came in, mostly adventure games. There really isn't much here that needs to go into MobyGames. But the games were essentially free so I acquired them anyway.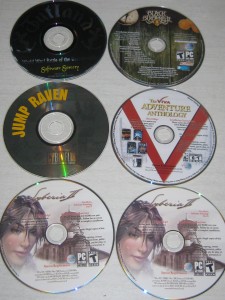 Click for larger image
Jump Raven: I'm looking forward to having a closer look at this one because it's a 1993 game from "Cyberflix: The Interactive Movie Company" and I'm all about the old multimedia-heavy FMV games.
Jutland: I already have this title but this is a slightly different version (1.1). Again, it was basically free, so no big deal.
The Viva Adventure Anthology: This is not in MobyGames yet but all of its constituent games are, so it should be pretty straightforward.